What Is Simple Mail Transfer Protocol (SMTP)?
SMTP is the standard protocol for email services on a TCP/IP network. SMTP provides the ability to send and receive email messages. SMTP is one of the most common and popular protocols for email communication over the Internet and it provide intermediary network services between the remote email provider or organizational email server and the local user accessing it.
SMTP works as a three-step process using a client/server model. First an email server uses SMTP to send a message from an email client, such as Outlook or Gmail to an email server. Secondly, the email server uses SMTP as a relay service to send the email to the receiving e-mail server. Thirdly, the receiving server uses an email client to download incoming mail via IMAP and places it in the inbox of the recipient.
SMTP is generally integrated within an email client application and is composed of four key components:
Local user or client-end utility referred to as the Mail user agent (MUA)
Server referred to as Mail Submission Agent (MSA)
Mail Transfer Agent (MTA)
Mail Delivery Agent (MDA)
SMTP works by initiating a session between the user and server whereas MTA and MDA provide domain searching and local delivery services.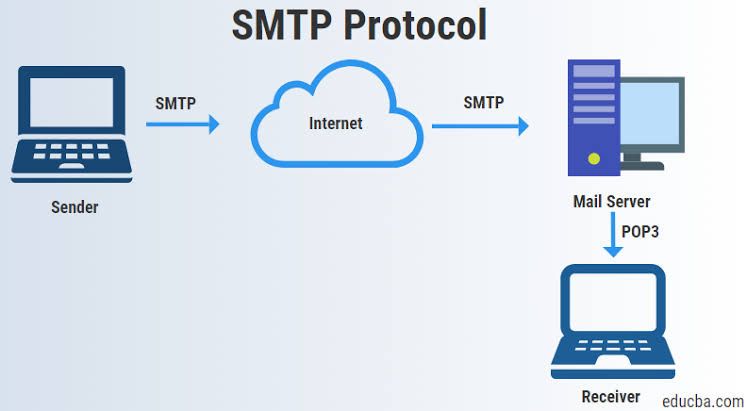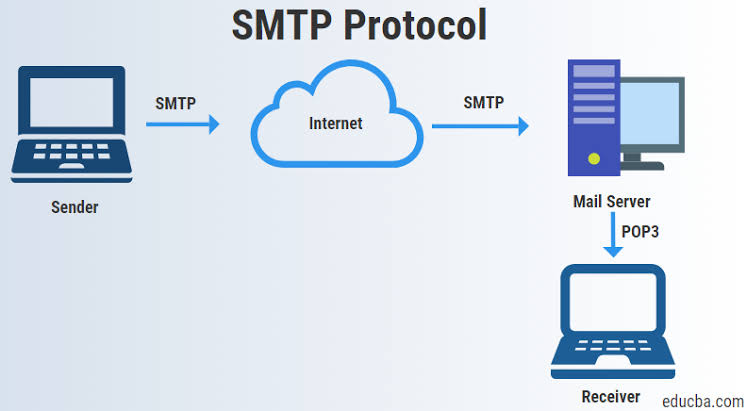 What You Need To Know About SMTP
SMTP is a message transfer Agent (MTA) designed for sending the message to the receiver.
SMTP is also referred to as PUSH Protocol.
SMTP is implemented technically and physically on port number 25 of the system.
SMTP transfers the mail from sender's computer to the mail box present on receiver's mail server.
The SMTP protocol is implied two times, first between sender and sender's mail server and second between sender and receiver's mail server.
It has two MTAs (Message Transfer Agent) and second one is server MTA (Message Transfer Agent).
What Is Post Office Protocol Version 3 (POP3)?
POP3 is the most recent version of an application-layer internet standard protocol used by e-mail clients to retrieve e-mail from a mail server. POP3 is a basic method of storing and retrieving email, it can work with virtually any email program, as long as the email program is configured to host the protocol. This standard protocol is built into most popular e-mail products such as Eudora and Outlook Express. It's also built into the Netscape and Microsoft Internet Explorer browsers.
POP3 mail server has a different address, which is usually provided to an individual by their web hosting company. This address must be entered into the email program in order for the program to connect effectively with the protocol.
Generally, most email applications use the 110 port to connect to POP3. Those individual who are configuring their email program to receive POP3 email will also need to input their username and password in order to successfully receive email.
POP3 is designed to delete mail on the server as soon as the user has downloaded it. However, some implementations allow users or an administrator to specify that mail be saved for some period of time.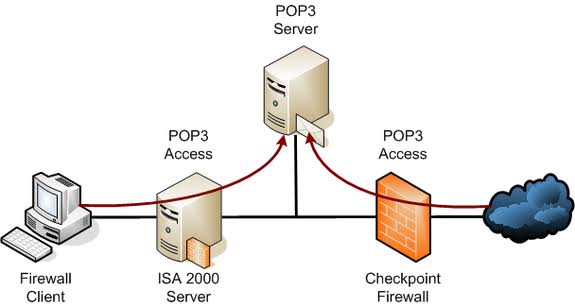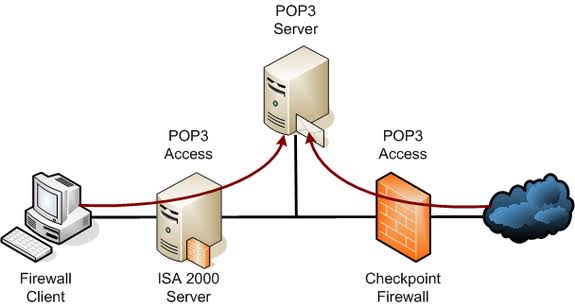 What You Need To Know About POP3
POP3 is a massage access Agent (MAA), designed for accessing the messages from the mail box.
POP3 is also referred to as POP Protocol.
POP3 is implemented technically on port number 110.
POP3 allows to retrieve and organize mails from mailbox on receiver mail server to receiver's computer.
POP3 is implied between receiver and receiver's mail server.
It also has two MAAs, client MAA (Message Access Agent) and server MAA (Message Access Agent).
Also Read: Difference Between TCP And UDP
Difference SMTP And POP3 In Tabular Form
| | | |
| --- | --- | --- |
| BASIS OF COMPARISON | SMTP | POP3 |
| Acronym | SMTP stands for Simple Mail Transfer Protocol | POP3 stand for Post Office Protocol Version 3. |
| Alternative Name | SMTP is also referred to as PUSH Protocol. | POP3 is also referred to as POP Protocol. |
| Implementation | SMTP is implemented technically and physically on port number 25 of the system. | POP3 is implemented technically on port number 110. |
| Function | SMTP transfers the mail from sender's computer to the mail box present on receiver's mail server. | POP3 allows to retrieve and organize mails from mailbox on receiver mail server to receiver's computer. |
| Implied | The SMTP protocol is implied two times, first between sender and sender's mail server and second between sender and receiver's mail server. | POP3 is implied between receiver and receiver's mail server. |
| Number Of MTAs & MAAs | It has two MTAs (Message Transfer Agent) and second one is server MTA (Message Transfer Agent). | It also has two MAAs, client MAA (Message Access Agent) and server MAA (Message Access Agent). |