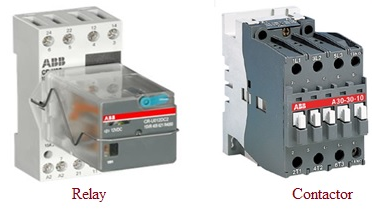 What is a Relay?
Relays are switches that open and close circuits electromechanically or electronically. Relays are the primary protection as well as switching devices in most of the control processes or equipments. All relays respond to one or more electrical quantities like voltage or current such that they open or close contacts or circuits.
Relays can be categorized or classified into different types depending on the function which they are suppose to do. Some of the categories include protective, reclosing, regulating, auxiliary and monitoring relays.
Protective Relays monitors the voltage, current and power and in case any of them go against the set limits, they generate alarm or isolate the circuit.
Monitoring Relays monitors the system condition such as direction of power and accordingly generates the alarm.
Auxiliary Relays are used in circuit breakers and other protective equipments for contact multiplication.
Reclosing Relays are used to connect various components and devices within a system network such as synchronizing process.
What Is A Contactor?
A contactor is an electromechanically controlled switch used for switching an electrical power circuit. A contactor is typically controlled by a circuit which has a much lower power level than the switched circuit, such as a 24-volt coil electromagnet controlling a 230-volt motor switch.
Contactors typically have multiple contacts and those contacts are usually (but not always) normally-open, so that power to the load is shut off when the coil is de-energized. Large industrial electric motors are usually protected from overcurrent damage through the use of over overload heaters and overload contacts. If the series-connected heaters get too hot from excessive current, the normally-closed overload contact will open, de-energizing the contactor sending power to the motor.
The Device
The main difference between the contactor and Relay is that, Contactor is a high power device while Relay is a low power device.
Load Capacity
Contactors are used in control circuits with both low and high Ampere capacity that is between 15A to 12500A. Relay on the other hand, is used in control circuits with low Ampere capacity, that is, between 10A and 15A.
Design
Contactors are mainly designed for three phase applications whereas; Relays are mainly designed for single phase application.
Safety Components
Contactors are usually designed for high voltage applications and because of this; they have some safety features such as spring-loaded contacts. Spring-loaded contact is an application used to prevent internal short circuit of the contactor when it heavily loaded with high voltage current. Another safety feature present on contactors is Magnetic ARC suppression. ARC suppression is the reduction of sparks formed when current-carrying contacts are separated.
Relays on the other hand, are not fitted with safety features like spring contacts and ARC suppression system.
Switching Speed
The switching speed of the relays is very much faster when compared to the switching speed of contactors. In this regard, relays can be operated with electronic signals whereas contactors cannot be operated with electronics signals.
Power Consumption
Relays have small electromagnets when compared to the relatively large electromagnets of contactors and in this regard, contactors consume more power than relays.
Cost
Contactors are comparatively high cost devices when compared to relays. On the other hand, relays are low cost devices when compared to contactors.
Size
Contactors are relatively larger in size and heavier when compared to relays that are relatively small and lighter.
Open/Closed Contact
Contactors are exclusively designed to operate with normally open contacts whereas Relays opens or closes normally depending on desired function. What this means is that, when the contactor has no power there is no connection whereas when there is no power Relay would still be connected.
Connection
A contactor joins two poles together, without a common circuit between them, while a relay has a common contact that connects to a neutral position.
Rating
Contactors are rated for up to 1000V but Relays are rated for up to 250V.
Connection to Overloads
Relays are not usually connected to overloads whereas contactors are commonly connected to overloads that interrupt the circuit if the power exceeds set limit for a given period of time, usually 20 to 30 seconds. This is usually very helpful as it helps to protect the equipment on the other side of the contactor from damage due to large supply of current.
Also Read: Difference Between Fuse And Circuit Breaker
The Difference Between Relay And Contactor In Tabular Form
| | | |
| --- | --- | --- |
| BASIS OF COMPARISON | RELAY | CONTACTOR |
| Kind of Device | Contactor is a high power device. | Relay is a low power device. |
| Load Capacity | Relay on the other hand, is used in control circuits with low Ampere capacity, that is, between 10A and 15A. | Contactors are used in control circuits with both low and high Ampere capacity that is between 15A to 12500A. |
| Design | Contactors are mainly designed for three phase applications. | Relays are mainly designed for single phase application. |
| Safety Components | Relays are not fitted with safety features like spring contacts and ARC suppression system. | Contactors are usually designed for high voltage applications and because of this; they have some safety features such as spring-loaded contacts. |
| Switching Speed | The switching speed of the relays is very much faster when compared to the switching speed of contactors. | The switching speed of the contactor is very slower when compared to the switching speed of Relay. |
| Power Consumption | Relays have small electromagnets when compared to the relatively large electromagnets of contactors and in this regard, contactors consume more power than relays. | Relays have large electromagnets when compared to the relatively small electromagnets of relays and in this regard, relays consume less power than contactors. |
| Cost | Relays are low cost devices when compared to contactors. | Contactors are comparatively high cost devices when compared to relays. |
| Size | Relays are relatively smaller in size and heavier when compared to contactors. | Contactors are relatively larger in size and heavier when compared to relays. |
| Open/Closed Contact | Relays opens or closes normally depending on desired function. | Contactors are exclusively designed to operate with normally open contacts. |
| Connection | A relay has a common contact that connects to a neutral position. | A contactor joins two poles together, without a common circuit between them. |
| Rating | Contactors are rated for up to 1000V. | Relays are rated for up to 250V. |
| Connection to Overloads | Relays are not usually connected to overloads. | Contactors are commonly connected to overloads that interrupt the circuit if the power exceeds set limit for a given period of time, usually 20 to 30 seconds. |
Also Read: Difference Between Relay And Circuit Breaker