Learn the underlying difference between Broad band WiMAX and Wi-Fi. The basis of comparison include: Description, official launch, configuration, encryption, protocol, licensed and unlicensed spectrum, data transmission rates, channel bandwidth, Coverage, IEEE Standards, bandwidth efficiency and version Standards.
Key Difference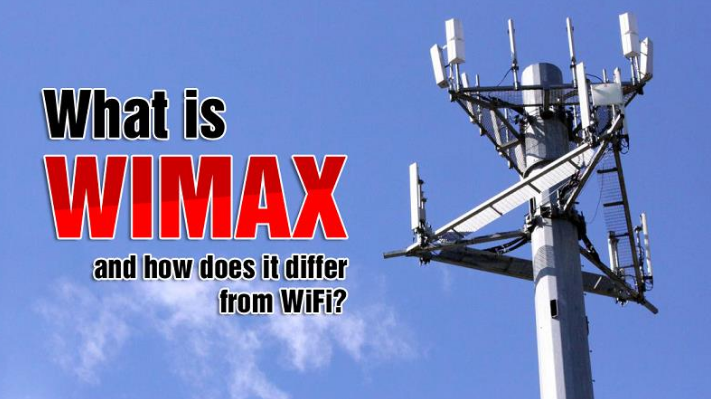 Description
Wi-Fi is an acronym for Wireless Fidelity. It is a wireless networking technology that uses radio waves to provide wireless high-speed internet and network connections. Wi-Fi networks have no physical wired connection, the connection between sender and receiver is by use of radio frequency technology (RF). The radio frequency wave is supplied to an antenna, and then an electromagnetic field is created which then is able to propagate through space.
WiMAX is an acronym for Worldwide Interoperability for Microwave Access. It also goes by the IEEE name 802.16. It is a technology standard for long-range wireless networking for both mobile and fixed connection. WiMAX is popular because of its low cost and flexible nature. It can be installed faster than other internet technologies because it can use shorter towers and less cabling, supporting even non-line-of-sight coverage across an entire city or country.
Official Launch
Wi-Fi was officially launched in the year 1997 whereas WiMAX was launched in the year 2004.
Configuration
Wi-Fi is mostly an end user technology where users can purchase Wi-Fi devices and configure them by themselves whereas; WiMAX is mostly deployed by the service provider (WiMAX Spectrum Owners Alliance (WiSOA).
Encryption
Wi-Fi uses encryption techniques like Advanced Encryption Standards and RC4. Also, Wi-Fi provides security methods like wireless protected access (WPA), Extended Extensible Authentication Protocol (EAP) and Wireless Protected Access (WPA2).
WiMAX uses encryption techniques like Triple Data Encryption Algorithm and Advanced Encryption Standards. WiMAX uses security methods like Advanced Encryption Standard (EAS), Privacy Key Management Protocol Version 2 (PKMP2) and Extensible Authentication Protocol (EAP).
Protocol
Wi-Fi uses CSMA/CA protocol which could be connection based or connection-less whereas WiMAX uses connection based MAC protocol.
Licensed And Unlicensed Spectrum
WiMAX can run on both licensed and unlicensed spectrum whereas Wi-Fi is exclusively unlicensed on a fixed number of channels. Wi-Fi operates in the unlicensed 2.4 GHz and 5GHz bands. On the other hand, WiMAX technology provides two types of wireless access services that is Line of sight service and non-line of sight service. Line of sight service has an operating frequency band up to 66 GHz whereas the non-line of sight service, the operating frequency is between 2 to 11 GHz. The 2.5 to 3.5 GHz frequency channel band is licensed while the 5.8 GHz frequency spectrum is unlicensed.
Data Transmission Rates
Wi-Fi based networking can transfer data at speeds up to 54 mbps whereas; WiMAX networks exchange data at speeds upto 40mbps. In WiMAX, data transfer rates have more variations as distances to be covered are quite larger.
Regulation And Operator
Wi-Fi is approved as "Wi-Fi Certified" (a registered trademark) by the Wi-Fi alliance. Wi-Fi Alliance is a global organization which certifies interoperability of IEEE 802.11 compliant wireless products and promotes the global wireless standards.
WiMAX is a product of WiMAX Spectrum Owners Alliance (WiSOA), a global organization that is responsible for regulating, commercializing and deploying the WiMAX spectrum in 2.3 to 2.5 GHz and 3.2 to 3.5 GHz ranges.
Channel Bandwidth
Wi-Fi networks have fixed channel bandwidth of 20 MHz whereas Wimax networks have a flexible channel bandwidth which ranges from 1.25 MHz to 20 MHz.
IEEE Standards
Wi-Fi has been defined under IEEE 802.11x standards where x is various Wi-Fi versions whereas; WiMAX is standardized under 802.16y family of wireless networking where y refers to various WiMAX versions.
Coverage
Wi-Fi is a short distance wireless means of connectivity; it has coverage of up to 100 meters for outdoor applications and 30 meters for indoor coverage. Wi-Fi technology connects printers to computers, gaming consoles to router etc. On the other hand, WiMAX provides both non-line of sight connectivity and line of sight connectivity. Non-line of sight connectivity with the help of strong antennas covers a radius of above 25 kilometers (Km). For line of sight connectivity, with help of strong antennas, coverage area of above 600- square kilometers (sq-kms).
WiMAX serves a larger interoperable network. It can be used to provide internet services to a larger area where it can serve households, mobile phones and even Wi-Fi spots.
Form Of Communication
Wi-Fi supports half duplex communication with 52 FFT OFDM technology whereas WiMAX supports full duplex communication with 256 FFT OFDM (Orthogonal Frequency Division Modulation) along with single carrier and 2048 FFTOFDM technology.
Versions Standard of Wi-Fi and WiMAX
Several factors such as frequency, range, encryption, application etc determines the versions of standard. WiMAX has different versions such as 802.16a, 802.16d, 802.16e whereas Wi-Fi has several versions of such as 802.11b, 802.11g, 802.11n etc.
Bandwidth Efficiency
Bandwidth efficiency refers to bits of information sent per second per unit frequency. It is usually a qualitative measure of how the channel is managed by the network. The bandwidth efficiency of Wi-Fi channel (up to 0.44bps/s/Hz for 802.11a and 2.7 bps/s/Hz for b/g/n standards is theoretically twice less than WiMAX based channels ( up to 5bps/s/Hz).
Difference between Wi-Fi and WiMAX In Tabular Form
| | | |
| --- | --- | --- |
| BASIS OF COMPRISON | WI-FI | WiMAX |
| Description | Wi-Fi is an acronym for Wireless Fidelity. It is a wireless networking technology that uses radio waves to provide wireless high-speed internet and network connections. | WiMAX is an acronym for Worldwide Interoperability for Microwave Access. It also goes by the IEEE name 802.16. It is a technology standard for long-range wireless networking for both mobile and fixed connection. |
| Official Launch | Wi-Fi was officially launched in the year 1997. | WiMAX was launched in the year 2004. |
| Configuration | Mostly an end user technology where users can purchase Wi-Fi devices and configure them by themselves. | Mostly deployed by the service provider (WiMAX Spectrum Owners Alliance (WiSOA). |
| Encryption | Uses encryption techniques like Advanced Encryption Standards and RC4. | Uses encryption techniques like Triple Data Encryption Algorithm and Advanced Encryption Standards. |
| Protocol | Uses CSMA/CA protocol which could be connection based or connection-less. | Uses connection based MAC protocol. |
| Licensed and Unlicensed Spectrum | Exclusively unlicensed on a fixed number of channels. | Can run on both licensed and unlicensed spectrum. |
| Data Transmission Rates | Wi-Fi based networking can transfer data at speeds up to 54 mbps. | WiMAX networks exchange data at speeds upto 40mbps. |
| Regulation And Operator | Wi-Fi is approved as "Wi-Fi Certified" (a registered trademark) by the Wi-Fi alliance. | WiMAX is a product of WiMAX Spectrum Owners Alliance (WiSOA), a global organization that is responsible for regulating, commercializing and deploying the WiMAX spectrum |
| Channel Bandwidth | Networks have fixed channel bandwidth of 20 MHz. | Networks have a flexible channel bandwidth which ranges from 1.25 MHz to 20 MHz. |
| IEEE Standards | Defined under IEEE 802.11x standards where x is various Wi-Fi versions. | Standardized under 802.16y family of wireless networking where y refers to various WiMAX versions. |
| Coverage | Short distance wireless means of connectivity; it has coverage of up to 100 meters for outdoor applications and 30 meters for indoor coverage. | Provides both non-line of sight connectivity and line of sight connectivity. Non-line of sight connectivity with the help of strong antennas covers a radius of above 25 kilometers (Km). For line of sight connectivity, with help of strong antennas, coverage area of above 600- square kilometers (sq-kms). |
| Form Of Communication | Supports half duplex communication with 52 FFT OFDM technology. | Supports full duplex communication with 256 FFT OFDM (Orthogonal Frequency Division Modulation) along with single carrier and 2048 FFTOFDM technology. |
| Version Standards | Has several versions such as 802.11b, 802.11g, 802.11n etc. | Has different versions such as 802.16a, 802.16d, and 802.16e. |
| Bandwidth Efficiency |  (up to 0.44bps/s/Hz for 802.11a and 2.7 bps/s/Hz for b/g/n) | ( up to 5bps/s/Hz). |