What Is An If Ladder Statement?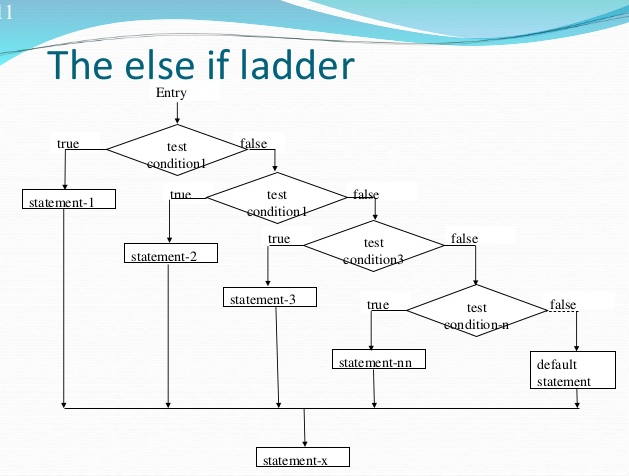 Else if ladder is a control statement which controls the statement or statements to be executed on the basis of some conditions and whenever else if ladder is used, the complier or interpreter initially checks the condition to be true or false. If found to be false, it continues to check the next else if ladder statement until the condition comes to be true or the control comes to end the else if ladder statement. If the condition is found to be true, then the corresponding statements are executed.
Features of An else if ladder
Zero and non-zero basis is where the else if ladder depends for decision making.
Either integer or character is the variable data type used in the expression of else if ladder.
Each else if has its own expression or condition to be evaluated.
Else if ladder evaluates an expression and then, the code is selected based on the true value of evaluated expression.
What Is Switch Case Statement?
The switch case statement is a control statement that allows a value to change control of execution. It is a multi-way branch kind of statement that provides an easy way to dispatch execution to different parts of the code based on the value of the expression.
Features of Switch Case
The switch case takes decision on the basis of equality.
Each case has a break statement.
Integer is the only data type that can be used in switch expression.
Each switch case will always refer back to the original expression.
The switch statement evaluates the value of an expression and a block code is selected on the basis of that evaluated expression.
Also Read: Difference Between Switch Case And If-else
If Else Ladder Vs. Switch Case Statement In Tabular Form
| | | |
| --- | --- | --- |
| BASIS OF COMPARISON | ELSE IF LADDER | SWITCH CASE |
| The control | In else if ladder, the control runs through the every else if statement until it arrives at the true value of the statement or until it comes to the end of the else if ladder. | In else if ladder, the control runs through the every else if statement until it arrives at the true value of the statement or until it comes to the end of the else if ladder. |
| Working | Else if ladder statement works on the basis of true false (zero/non-zero) basis. | Switch case statement work on the basis of equality operator. |
| Use of Break Statement | In switch, the use of break statement is mandatory and very important. | In else if ladder, the use of break statement is not very essential. |
| Variable Data | Integer is the only variable data type that can be in expression of switch. | Either integer or character is the variable data type used in the expression of else if ladder. |
| Processing Of Codes | In the case of else if ladder, the code needs to be processed in the order determined by the programmer. | In switch case, it is possible to optimize the switch statement, because of their efficiency. Each case in switch statement does not depend on the previous one. |
| Flexibility | Else if statement is not flexible because it does not give room for testing of a single expression against a list of discrete values. | Switch case statement is flexible because it gives room for testing of a single expression against a list of discrete values. |
| Usage | Else if ladder is used when there is multiple conditions are to be tested. | Switch case is used when there is only one condition and multiple values of the same are to be tested. |
| Values | Values are based on constraint. | Values are based on user choice. |
Also Read: Difference Between Entry Controlled And Exit Controlled Loop