An intrinsic semiconductor is one which is made of the semiconductor material in its pure form (Without any significant doping agent present). In this type of semiconductor, the number of charge carriers is therefore determined by the properties of the material itself and not the amount of impurities.
It can also be described as one in which the number of conduction electrons is equal to the number of holes. At room temperature, intrinsic semiconductors exhibit almost negligible conductivity. Due to the fact that no other type of element is present in its crystalline structure.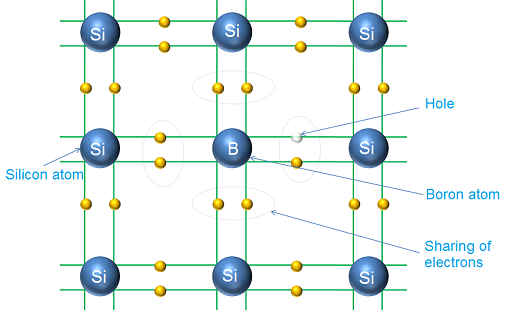 An extrinsic semiconductor is an improved intrinsic semiconductor in which a small amount of impurities are added by a process referred to as doping, which improves its conductivity and alters the electrical properties of the semiconductor.
The doping agents are pentavalent atoms (atoms having five valence electrons) or trivalent atoms (atoms having three valence electrons). Example of pentavalent doping atom include: antimony, arsenic, phosphorus and bismuth. On the other hand, examples of trivalent doping atoms include: gallium, indium, aluminium and boron.
Extrinsic semiconductors have a high electrical conductivity. Unlike intrinsic semiconductor, extrinsic semiconductors are of two types p-type and n-type semiconductor.
The Difference
Doping or addition of impurities does not happen in intrinsic semiconductors whereas a small amount of impurity is doped in a pure semiconductor for preparation of extrinsic semiconductor.
Electrical conductivity of intrinsic semiconductor is a function of temperature alone whereas the electrical conductivity of extrinsic semiconductors depends upon the temperature as well as on the impurity atoms doped in the structure.
The density of electrons and holes in the intrinsic semiconductor is same that is, the number of free electrons present in the conduction band is equal to the number of holes in the valence band, however, in case of extrinsic semiconductor, the number of electrons and holes are not equal.
The Fermi level in intrinsic semiconductor is at the center of forbidden energy gap and is unchanged with change in temperature. In extrinsic semiconductor, the Fermi level shifts upward or downward with change in temperature.
The electrical conductivity of intrinsic semiconductors is very poor whereas the electrical conductivity of extrinsic semiconductor is fair good.
Intrinsic semiconductors are practically not used whereas extrinsic semiconductors are practically used.
The pure form of silicon and germanium crystal is used in an intrinsic semiconductor whereas the impurity like arsenic, antimony, phosphorus, aluminium , indium etc are added to the pure form of silicon and germanium to form extrinsic semiconductors.
The band gap between conduction and valence band is small in intrinsic semiconductors whereas in extrinsic the band gap is bigger.
Intrinsic semiconductor does not have any further classification whereas extrinsic semiconductors can be classified into n–type and p-type.
Also Read: Difference Between Zener Breakdown And Avalanche Breakdown
Intrinsic Semiconductors Vs. Extrinsic Semiconductors In Tabular Form
| | | |
| --- | --- | --- |
| BASIS OF COMPARISON | INTRINSIC SEMICONDUCTOR | EXTRINSIC SEMICONDUCTOR |
| Doping | Doping or addition of impurities does not happen in intrinsic semiconductors. | A small amount of impurity is doped in a pure semiconductor for preparation of extrinsic semiconductor. |
| Electrical Conductivity | Electrical conductivity is a function of temperature alone. | The electrical conductivity depends upon the temperature as well as on the impurity atoms doped in the structure. |
| The Number Of Holes And Electrons | The number of free electrons present in the conduction band is equal to the number of holes in the valence band. | The number of electrons and holes are not equal. |
| Fermi Level | The Fermi level is at the center of forbidden energy gap and is unchanged with change in temperature. | The Fermi level shifts upward or downward with change in temperature. |
| Electrical Conductivity | The electrical conductivity of intrinsic semiconductors is very poor. | The electrical conductivity of extrinsic semiconductor is fair good. |
| Use | Intrinsic semiconductors are not practically used. | Extrinsic semiconductors are practically used. |
| Impurities | The pure form of silicon and germanium crystal is used in an intrinsic semiconductor. | The impurity like arsenic, antimony, phosphorus, aluminium , indium etc are added to the pure form of silicon and germanium to form extrinsic semiconductors. |
| Band/Energy Gap | The band gap between conduction and valence band is small in intrinsic semiconductors. | In extrinsic semiconductors the band gap is bigger. |
| Classification | Does not have any further classification. | Can be classified into n–type and p-type. |
Also Read: Difference Between P-type Semi Conductor And N-type Semiconductor