True solution is a homogenous mixture of two or more substances in which substances dissolved (solute) in solvent has the particles size of less than 10-9 nm or 1 nm. Simple solution of sugar in water is an example of a true solution.
The solute particles are invisible to the naked eye as well as under the most powerful microscope. Also, true solution particles can diffuse or pass through both parchment and filter paper as well. More importantly, a true solution does not show Tyndall effect (scatter light).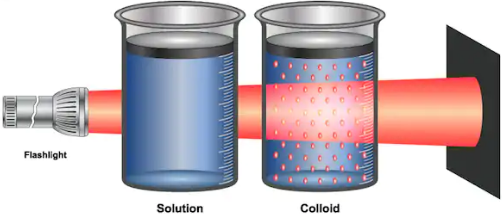 A colloidal solutionalso referred to as colloidal suspension, is a solution in which a material is evenly suspended in a liquid (intermediate of true solution and suspension). Smoke from a fire is an example of a colloidal system in which tiny particles of solid float in air. The particle size in colloidal solution lies in the range of between 1 nm to 100 nm and cannot be seen through naked eyes but their scattering can be viewed with the help of a microscope.
Colloidal solution usually shows Tyndall effect (scatter light). Also, particles in the colloidal solution show Brownian movements.
A suspension is a heterogeneous mixture in which the solute particles do not dissolve, but get suspended throughout the bulk of the solvent, left floating around freely in the medium. When mud is dissolved in water and stirred vigorously, particles of mud are distributed evenly in water. After some time, the particles of this solution settle under water due to influence of gravity. This is a good example of a suspension. Particles of suspension are visible through naked eyes.
The size of the particles in the case of suspension is greater than 100 nm. Suspension particles do not pass through filter paper and parchment paper. Also, a suspension may or may not show Tyndall effect (scatter light).
Read Further: Difference Between Colloid And Suspension With Examples
True Solution Vs. Colloidal Solution Vs. Suspension In Tabular Form
| | | | |
| --- | --- | --- | --- |
| BASIS OF COMPARISON | TRUE SOLUTION | COLLOIDAL SOLUTION | SUSPENSION |
| Description | True solution is a homogenous mixture of two or more substances in which substances dissolved (solute) in solvent has the particles size of less than 10-9 nm or 1 nm. | A colloidal solution also referred to as colloidal suspension, is a solution in which a material is evenly suspended in a liquid. | A suspension is a heterogeneous mixture in which the solute particles do not dissolve, but get suspended throughout the bulk of the solvent, left floating around freely in the medium. |
| Size of Particles | The sizes of particles in a true solution are molecules having diameter less than 1 nm. | The particle size in colloidal solution lies in the range of between 1 nm to 100 nm. | The size of the particles in the case of suspension is greater than 100 nm. |
| Tyndall Effect |  The true solution does not show Tyndall effect (scatter light). | Colloidal solution usually shows Tyndall effect (scatter light). | Suspension may or may not show Tyndall effect (scatter light). |
| Visibility / Appearance of Particles | The solute particles are invisible to the naked eye as well as under the most powerful microscope. | The solute particles are invisible to the naked eye but their scattering can be viewed with the help of a microscope. | The solute particles are visible even to the naked eye or can be seen with the help of a microscope. |
| Nature Of the Solution | Homogenous. | Heterogeneous. |  Heterogeneous. |
| Color Of The Solution | Depends on the nature of the soluble salt or ions. | Depends on the size of the colloidal particles. | Depend on the color of suspended particles. |
| Brownian Movements | Particles in the true solution do not show Brownian movements. | Particles in the colloidal solution show Brownian movements. | The Particles show Brownian Movements. |
| Sedimentation | Particles in true solution do not undergo sedimentation. | Colloids particles do not undergo sedimentation. | In suspension, particles do undergo sedimentation. |
| Filterability (Passage Through Parchment and Filter paper). | True solution particles can diffuse or pass through both parchment and filter paper as well. | Colloid particles can pass through a filter paper but not through parchment paper. | Suspension particles do not pass through filter paper and parchment paper. |
| External Appearance | Transparent. | Translucent. | Opaque. |
| Number of Phase Systems | One phase system. | Two Phase systems. | Two Phase Systems. |
| Stability | Stable | Stable | Metastable. |
| Example | Sugar solution in water. | Starch dissolved in water. | Soil dissolved in water. |
Read Further: Difference Between Sol And Gel With Examples