Wood can be described as a porous and fibrous structural tissue found in the stems and roots of trees and other woody plants. It is an organic material (a natural composite of cellulose fibers that are strong in tension and embedded in a matrix of lignin that resists compression. Wood is sometimes defined as secondary xylem.
The chemical composition of wood varies from species to species, but is approximately 50% carbon, 42% oxygen, 1% nitrogen, 1% hydrogen and 1% other elements (calcium, potassium, sodium, magnesium, iron and manganese). Wood also contains sulfur, chlorine, silicon, phosphorus and other elements in small quantities.
In temperate softwoods, there is usually a marked difference between spring wood (late wood) and early wood (autumn wood). The late wood will be denser than the early wood. When examined under a microscope the cells of dense late wood are seen to be very thick-walled and with and with very small cell cavities, while those formed first in the season have thin walls and large cell cavities. Both early wood and late wood serve a purpose for the tree. It's the latewood that gives wood the majority of its strength and earlywood keeps the tree growing by delivering water and nutrients.
Spring wood/ Early wood
Early wood develops in the spring when rain and nutrients from the soil are abundant and days are getting along. The xylem formed in the spring season can thus be referred to as spring season wood. These xylem contains larger and numerous pores which are mostly vessels with wider opening and lumens. The lumens usually have less fiber content and it grows radially with wide depth.
Characteristics Of Spring Wood You Need To Know
The cambium becomes more active during the spring and forms xylem vessels with wider cavities referred to as spring wood or early wood.
It is formed during the spring season/during the favorable period of the year.
Spring wood forms the major part of the annual ring.
Forms plenty of xylem vessels with wider cavities.
Spring wood has fewer fibers.
In spring wood, the tracheary elements (Tracheids and vessels) are less thickened.
It has a low density.
The spring wood is lighter in color.
It occurs in the beginning of an annual ring.
Autumn Wood/ Late Wood
The Late wood or autumn wood is formed during the summer or autumn season, at the time when the activity of cambium is less. The vessels get thickened with narrow lumens. The autumn wood usually consists of narrow vessels and abundant vessels.
Both earlywood and latewood occur in concentric rings referred to as annual rings.
Characteristics Of Autumn Wood You Need To Know
The cambium activity slows down in winter season and gives rise to narrow xylem elements referred to as autumn wood or late wood.
It is formed during winter season/towards the close of the active growing period of the year just before the beginning of unfavorable condition.
Autumn wood forms a narrow strip in the annual ring.
The cavities of xylem vessels are narrower.
Autumn wood has abundant fibers.
In autumn wood, the tracheary elements (tracheids and vessels) are more thickened.
It has a high density.
Autumn wood is darker in color.
It occurs at the end of an annual ring.
Images Of Spring Wood And Autumn Wood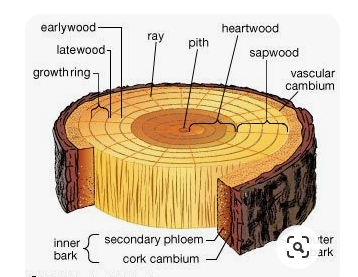 Also Read: Difference Between Heartwood And Sapwood
Difference Between Spring Wood And Autumn Wood In Tabular Form
| | | |
| --- | --- | --- |
| BASIS OF COMPARISON | SPRING WOOD | AUTUMN WOOD |
| Cambium Activity | The cambium becomes more active during the spring and forms xylem vessels with wider cavities referred to as spring wood or early wood. | The cambium activity slows down in winter season and gives rise to narrow xylem elements referred to as autumn wood or late wood. |
| Formation | It is formed during the spring season/during the favorable period of the year. | It is formed during winter season/towards the close of the active growing period of the year just before the beginning of unfavorable condition. |
| Annual Ring | Spring wood forms the major part of the annual ring. | Autumn wood forms a narrow strip in the annual ring. |
| Xylem Vessels Cavity | Forms plenty of xylem vessels with wider cavities. | The cavities of xylem vessels are narrower. |
| Number Of Fibres | Spring wood has fewer fibers. | Autumn wood has abundant fibers. |
| Tracheary Elements Thickening | In spring wood, the tracheary elements (Tracheids and vessels) are less thickened. | In autumn wood, the tracheary elements (tracheids and vessels) are more thickened. |
| Density | It has a low density. | It has a high density. |
| Color | The spring wood is lighter in color. | Autumn wood is darker in color. |
| Occurrence | It occurs in the beginning of an annual ring. | It occurs at the end of an annual ring. |