A circuit breaker is an automatically operated electrical switch designed to protect an electrical circuit from damage caused by excess current from an overload or short circuit. Its basic function is to interrupt current flow after a fault is detected. There are different types of circuit breakers made in varying sizes, from small devices that protect low-current circuits or individual household appliance, up to large switchgear designed to protect high voltage circuits feeding an entire city. MCB and MCCB are all types of circuit breakers, however, all of them have been designed for serving a specific purpose.
Miniature Circuit Breaker (MCB)
Miniature circuits breaker commonly referred to as MCB is an automatic switch that protects an electrical circuit from over-currents. It is mainly used for low breaking capacity requirement mainly in domestic setting. MCBs are typically rated up to a current of 125A, do not have adjustable trip characteristics and can be thermal or electromagnetic in operation.
Thermal Operation
The thermal operation of an MCB works with the help of a bimetallic strip. When a continuous over-current flows through an MCB, the bimetallic strip becomes hot and deflects by bending. The deflection releases a mechanical latch that opens the contacts.
Electromagnetic Operation
In case of occurrence of a short circuit occurs, heavy current flows through the solenoids and causes electromechanical displacement of plunger associated with tripping coil or solenoid of MCB. The plunger strikes the trip lever causing immediate release of latch mechanism hence opening up the circuit breaker contacts.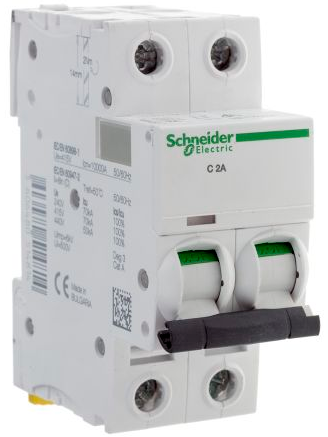 What You Need To Know About MCB
The Miniature circuit breaker is a type of switch which protects the system from overloaded current.
Due to power capabilities, MCB is mainly used for low breaking capacity requirement mainly in domestic setting.
MCB has single, two or three pole version.
The trip characteristics of an MCB are fixed and preset.
The interrupting current of MCB is 1800 amps.
The remote ON/OFF is not possible in MCB.
The rated current of MCB is 100 amps.
The MCB is used in low current circuits.
The tripping circuit of the MCB is fixed. When over current flows through MCB the tripping circuit shut off the switch and hence protecting the equipment from damage.
Molded Case Circuit Breaker (MCCB)
Molded Case Circuit Breaker, abbreviated as MCCB is a circuit breaker that is used to protect the electrical equipment from overload, short circuit, instantaneous over current and earth faults. Its current-carrying parts, mechanisms and trip devices are completely contained within a molded case of insulating material.
MCCB system uses a temperature-sensitive device also referred to as thermal element along with a current sensitive electromagnetic device which is also referred to as the magnetic element in order to provide the overall trip mechanism which is relied for protection and isolation purposes.
MCCBs are available in various frame sizes with various interrupting ratings for each frame size. MCCBs are designed to provide protection for both low and high voltage distribution systems. Although there are many types of molded case circuit breakers, all are made up of five main components. These are:
Molded case or frame
Operating mechanism
Arc extinguishers
Contacts
Trip Units
What You Need To Know About MCCB
The Molded Case Circuit Breaker protects the system from over temperature and short circuit current.
MCCB is mainly used for both low and high breaking capacity requirements mainly in industrial setting.
MCCB has single, two, three or four pole version. Pole is the number of phases used by the circuit breaker for the switching and protection.
The trip characteristics of an MCCB can be varied based on application.
The interrupting current of the MCCB is 10k-200k.
The remote ON/OFF is possible in MCCB by use of shunt wire.
The rated current of MCB is between 10-200amps. The rated current is the maximum current that a circuit breaker should draw.
MCCB is used for the heavy current circuit.
The tripping circuit of the MCCB is movable. The tipping circuit turns on and off the flow of electric current.
Also Read: Difference Between Fuse And Circuit Breaker
Difference Between MCCB And MCB In Tabular Form
| | | |
| --- | --- | --- |
| BASIS OF COMPARISON | MCCB | MCB |
| Acronym For | MCB is an acronym for Molded Case Circuit Breaker. | MCB is an acronym for Miniature Circuit Breaker. |
| Application | MCCB is mainly used for both low and high breaking capacity requirements mainly in industrial setting. | The Maniature circuit breaker is a type of switch which protects the system from overloaded current. |
| Pole Version | MCCB has single, two, three or four pole version. Pole is the number of phases used by the circuit breaker for the switching and protection. | MCB has single, two or three pole version. |
| Trip Characteristics | The trip characteristics of an MCCB can be varied based on application. | The trip characteristics of an MCB are fixed and preset. |
| Interrupting Current | The interrupting current of the MCCB is 10k-200k. | The interrupting current of MCB is 1800 amps. |
| Remote ON/OFF | The remote ON/OFF is possible in MCCB by use of shunt wire. | The remote ON/OFF is not possible in MCB. |
| Rated Current | The rated current of MCB is between 10-200amps. The rated current is the maximum current that a circuit breaker should draw. | The rated current of MCB is 100 amps. |
| Use | MCCB is used for the heavy current circuit. | The MCB is used in low current circuits. |
| Tripping Current | The tripping circuit of the MCCB is movable. | The tripping circuit of the MCB is fixed. |