LED (Light Emitting Diode)
A light-emitting diode (LED) is a semiconductor light source that emits light when current flows through it. Electrons in the semiconductor recombine with electron holes, releasing energy in the form of photons. Early LEDs produced only red light, but modern LEDs can produce several different colors including red, green and blue light.
Unlike a LASER, the light emitted from LED is neither spectrally coherent nor even highly monochromatic. However, its spectrum is sufficiently narrow that it appears to the human eye as a pure (saturated) color. Also, unlike most lasers, it radiation is not spatially coherent, so it cannot approach the very high brightness characteristic of lasers.
Early LEDs were often used as indicator lamps, replacing small incandescent bulbs and in seven-segment displays. Recent developments have produced high-output white light LEDs suitable for room and outdoor area lighting. LEDs have led to new displays and sensors while their high switching rates are useful in advanced communications technology. LEDs are used in applications as diverse as aviation lighting, fairy lights, automotive headlamps, advertising, general lighting, traffic signals, camera flashes, lighted wallpaper, horticultural grow lights and medical devices.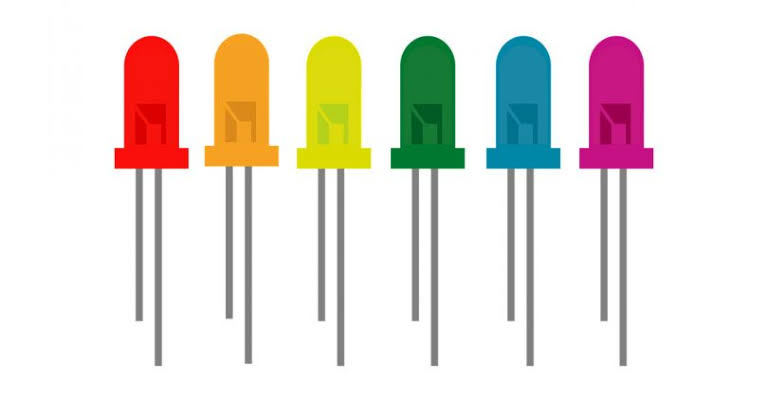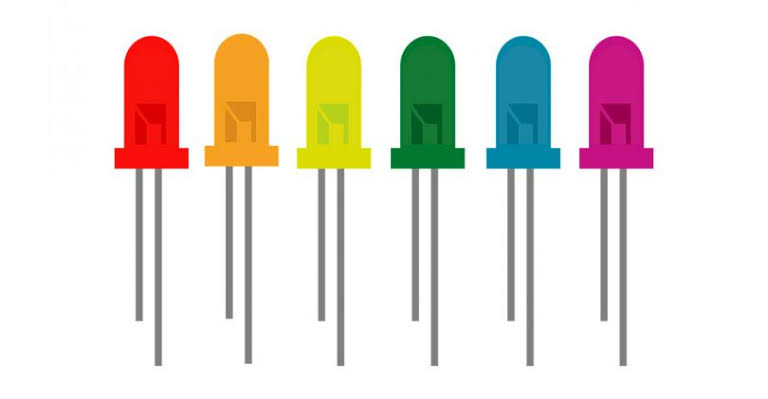 What You Need To Know About LED
LEDs are neither coherent nor collimated and generate a broader band of wavelength.
The peak output power is measured in milliwatt.
LED works on the principle of electro-luminance i.e lumination using charges/electrons.
The light emitted by LED consists of many colors.
LEDs are small in size, longer life, reliable and require little power.
LEDs produce a divergent and incoherent light beam.
Types of LED include: Surface emitter and Edge emitter.
The response of LEDs is fast.
LEDs require drive current of between 50 to 100mA.
Bandwidth of LED is moderate.
Feedback is not required in LED.
LASER (Light Amplification by Stimulated Emission Of Radiation)
A LASER is a device that emits light through a process of optical amplification based on the stimulated emission of electromagnetic radiation. A LASER is created when the electrons in atoms in special glasses, crystals or gases absorb energy from an electric current or another LASER and become ''excited.'' The excited electrons move from a lower-energy orbit to a higher-energy orbit around the atom's nucleus. When they return to their normal or ground state, the electrons emit photons (particles of light).
LASERs are used in optical disk drives, laser printers, barcode scanners, DNA sequencing instruments, fiber-optic, semiconducting chip manufacturing (photolithography) and free-space optical communication, laser surgery and skin treatments, military and law enforcement equipment devices, measuring range and speed and in laser lighting displays for entertainment.
What You Need To Know About LASER
LASERs are monochromatic (single color wavelength), collimated (non-divergent) and coherent (wavelength in-phase).
The peak output is measured in watt.
LASER works on the principle of stimulated emission.
Light emitted by LASER consists of a single color.
LASERs are bigger in size, longer life, less reliable and require more power than LED.
LASERs produce a monochromatic and coherent light beam.
Types of LASER include: semiconductor Laser and Gas Laser.
The Response of LASERs is faster than LED.
LASERs require drive current of between 5 to 40mA.
Bandwidth of LASER is higher.
Proper feedback is essential in LASER to be treated as an optical source.
Also Read: Difference Between Photodiode And LED
Difference Between LED And LASER In Tabular Form
| | | |
| --- | --- | --- |
| BASIS OF COMPARISON | LED | LASER |
| Description | LEDs are small in size, longer life, reliable and require little power. | LASERs are bigger in size, longer life, less reliable and require more power than LED. |
| Nature | LEDs are neither coherent nor collimated and generate a broader band of wavelength. | LASERs are monochromatic (single color wavelength), collimated (non-divergent) and coherent (wavelength in-phase). |
| Output Power | The peak output power is measured in milliwatt. | The peak output is measured in watt. |
| Working Principle | LED works on the principle of electro-luminance i.e lumination using charges/electrons. | LASER works on the principle of stimulated emission. |
| Light Color | The light emitted by LED consists of many colors. | Light emitted by LASER consists of a single color. |
| Beam | LEDs produce a divergent and incoherent light beam. | LASERs produce a monochromatic and coherent light beam. |
| Types | Surface emitter and Edge emitter | Semiconductor Laser and Gas Laser. |
| Response | The response of LEDs is fast. | The Response of LASERs is faster than LED. |
| Drive Current | LEDs require drive current of between 50 to 100mA. | LASERs require drive current of between 5 to 40mA. |
| Bandwidth | Bandwidth of LED is moderate. | Bandwidth of LASER is higher. |
| Feedback | Feedback is not required in LED. | Proper feedback is essential in LASER to be treated as an optical source. |