Typhoon, Hurricane And Cyclone
Cyclone, Typhoo and Hurricane can be describe as Tropical Cyclones, a tropical cyclone is a general term used by meteorologists to describe a rotating, organized system of clouds and thunderstorms that originate over tropical or subtropical waters and has low closed, low-level circulation.
The weakest tropical cyclones are referred to as tropical depressions. If a depression intensifies such that it's maximum sustained winds reach 39 miles per hour, the tropical cyclone becomes a tropical storm. Once a tropical cyclone reaches maximum sustained winds of 74 miles per hour or higher, it is then classified as a hurricane, typhoon or tropical cyclone, depending upon where the storm originates in the world.
Cyclones, Typhoons and Hurricanes produce strong winds and rain. They cause high waves, storm surges, flashfloods and landslides that eventually result to damage to infrastructure and loss of lives. It is important to understand that Cyclones, Hurricanes and Typhoons are basically the same thing, but they are given different names depending on where they have occurred.
The meteorological term "Hurricane" is used to describe storms that form in the North Atlantic Ocean, the Northeastern Pacific, the Caribbean Sea or the Gulf of Mexico. Typhoons on the other hand, develop in the Northwest Pacific ocean and are usually causes problems in Asia. In as far as Typhoons are concerned, the International Date Line (IDL) usually act as the Pacific Ocean's dividing marker, therefore when a Hurricane crosses it from east to west, it becomes a typhoon, and when a typhoon crosses it from west to east it becomes a Hurricane.
Further, Cyclonesare formed over the South Pacific and Indian Ocean. For example in the Southern Indian Ocean or the South Pacific, they are referred to as severe tropical cyclones or just tropical cyclones. In the Bay of Bengal or Arabian Sea, both in the Northern Indian Ocean, they are simply referred to as cyclones.
Hurricanes are usually rated in categories from 1 to 5 on the Saffir-Simpson Scale, which is normally based on sustained wind speed. According to meteorological departments such as National Hurricane Center (NHC) and Japan Meteorological Agency (JMA), category 3 to 5 Hurricanes have winds above 110 miles per hour and are very disastrous with potential to cause massive loss of human life and other humanitarian crisis.
Cyclones in the Indian Ocean are categorized according to the strength of the tropical cyclone. The intensity scale divides tropical cyclone strength into 3 categories which are described by terms like ''intense tropical cyclone'', "very intense tropical cyclone'', and ''super cyclonic storm''. Other regions use their own tropical cyclone intensity scales broken down into different criteria.
Typhoons just like Hurricanes are rated based on sustained wind speed. Every region use their own tropical cyclone intensity scales broken down into different criteria. Some common classifications include: ''violent typhoon or very strong typhoon'', ''tropical depression'', ''typhoon'' and ''super-typhoon'' etc.
Typhoons mainly occur from June to December in the Northwest pacific, on the other hand, cyclones occur throughout the year (year-round) whereas Hurricanes occur from may 15th to November 30th in the eastern Pacific Ocean. And from June 1stto November 30thin the Atlantic and Northeastern Pacific Oceans especially the Caribbean, Mexico, Central America, and East and Gulf coasts of the United States (Florida, Mississippi, Alabama, Louisiana and Texas).
The right conditions for tropical cyclones include a pre-existing weather disturbance, warm tropical oceans, moisture and relatively light winds. If these conditions persist long enough, they can combine to produce the violent winds, large waves, torrential rains and floods.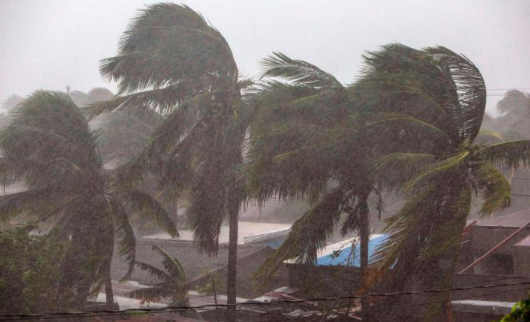 Hurricane Vs Cyclone Vs Typhoon In Tabular Form
HURRICANE
CYCLONE
TYPHOON
Hurricanes are tropical storms that form over the North Atlantic Ocean and Northeast Pacific.
Cyclones are formed over the South Pacific and Indian Ocean.
Typhoons are formed over the Northwest Pacific ocean.
Hurricanes occur from may 15th to November 30th in the eastern Pacific Ocean.
Cyclones occur throughout the year (year-round)
Typhoons mainly occur from June to December in the Northwest pacific.
Hurricanes are usually rated in categories from 1 to 5 on the Saffir-Simpson Scale, which is normally based on sustained wind speed.
Cyclones are categorized according to the strength of the tropical cyclone.
Typhoons just like Hurricanes are rated based on sustained wind speed.
The rotation of a hurricane is clockwise in southern hemisphere and rotates counterclockwise in the northern hemisphere.
The rotation of a cyclone is counterclockwise in the northern hemisphere and clockwise in the southern hemisphere.
_
If a hurricane's winds reach speeds of 111 miles per hour (179 kilometer per hour), it is classified as an ''intense hurricane''.
If a cyclones' winds reach speeds of 111 miles per hour (179 kilometer per hour), it is classified as an ''super cyclonic storm''.
If a typhoon reaches 150 miles per hour (241 kilometers per hour it is then classified as a ''supertyphoon''.
Hurricanes are classified into 5 categorizes :
Category 1: winds 74-95 mph
Category 2: winds 96-110 mph
Category 3: winds 111-130 mph
Category 4: winds 131-155 mph
Category 5: winds over 155 mph (these are very rare).
The cyclones are categorized as ''intense tropical cyclone'', "very intense tropical cyclone'', and ''super cyclonic storm''.
Some common classifications include: ''violent typhoon or very strong typhoon'', ''tropical depression'', ''typhoon'' and ''super-typhoon''