Hot springs and geysers are manifestations of volcanic activity. They result from the interaction of groundwater with magma or with solidified but still hot igneous rocks at shallow depth.
What Is A Hot Spring?
A hot spring is a spring that is produced when geothermally heated groundwater emerges from the Earth's crust. Some hot springs have waters that are cool enough for bathing, but in volcanic areas water may come into contact with rock that has been heated by magma. These hot springs sometimes produce water that is hot enough to kill animals that enter them. In non-volcanic areas, water can still be heated geothermally because the temperature of rocks within the Earth increases with depth and if water percolates deeply enough into the crust, it can gain heat from these rocks and then flow to the surface.
The temperature and rate of discharge of hot springs depend on the factors such as the rate at which water circulates through the system of underground channelways, the amount of heat supplied at depth, and the extent of dilution of the heated water by cool ground water near the surface.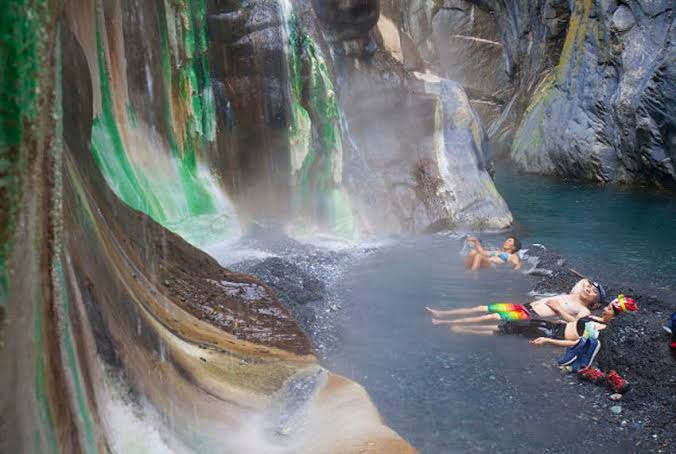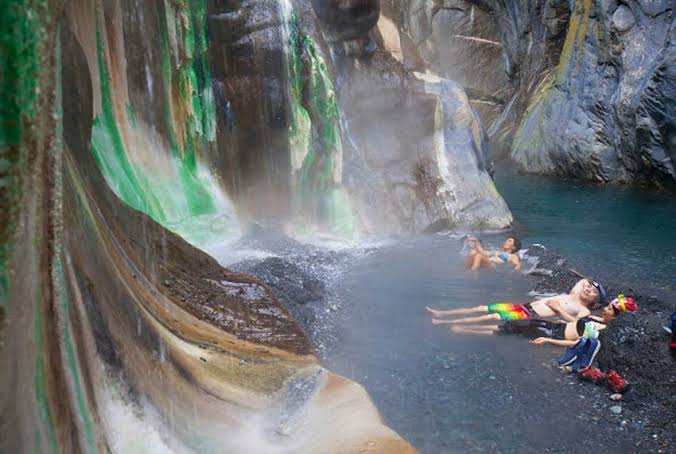 What You Need To Know About Hot Springs
In hot springs, water is allowed to circulate to the surface and move feely giving off steam and heat.
Hot springs are present all over the world, on all continents and even under the ocean.
Water from hot springs has high mineral content, containing everything from calcium to lithium and even radium.
A hot spring flows freely to the surface.
Hot springs are heated by geothermal heat. Geothermal heat is the heat from the interior of the earth. Geothermal heat can be produced by two natural phenomena: geothermal gradient and volcanic activity.
Hot springs are a permanent phenomenon.
Hot springs are relatively common phenomena.
The Dalhousie Springs in southern Australia are the largest hot springs in the world in terms of volume of water.
Also Read: Difference Between Fog And Mist
What Is A Geyser?
A geyser is a rare geothermal feature. Geysers are hot springs that intermittently spout a column of hot water and steam into air. When a large amount of groundwater that is trapped in underground cavities in a volcanic area is heated by the presence of magma and magma heated rocks, the extreme heat turns the water into steam very quickly. This causes sudden and immense pressure, which forces huge quantities of water up out of the ground, producing stunning sprays of water shooting up to hundreds of feet into air. This type of eruption can happen regularly or in cycles.
Conditions Required For Geysers
Hot rocks below
An ample groundwater source
A subsurface water reservoir
Fissures to deliver water to the surface.
What You Need To Know About Geysers
A geyser keeps the water boiling underground, which helps create the pressure that causes the water to rise out of the ground spontaneously.
Generally, all geyser sites are located close to active volcanic areas.
A geyser is plugged with an obstruction near the opening of the spout.
Geysers are temporary geological phenomena. The lifespan of geysers is a few thousand years at most.
Geysers are relatively rare phenomena. Most geysers erupt irregularly and infrequently.They occur only where there is a coincidence of unusual conditions.
In terms of the volume of water, the Old Faithful at Yellowstone National Park (USA) is the largest geyser in the world. Old Faithful erupts every 60 to 90 minutes and blasts a few thousand gallons of boiling-hot water between 100 and 200 feet into the air.
Many geysers around the world have been destroyed by people throwing litter and debris into them, other have ceased due to dewatering by Geothermal power plants.
Also Read: Difference Between Magma And Lava
Difference Between Hot Springs And Geysers In Tabular Form
| | | |
| --- | --- | --- |
| BASIS OF COMPARISON | HOT SPRINGS | GEYSERS |
| Description | In hot springs, water is allowed to circulate to the surface and move feely giving off steam and heat. | A geyser keeps the water boiling underground, which helps create the pressure that causes the water to rise out of the ground spontaneously. |
| Presence | Hot springs are present all over the world, on all continents and even under the ocean. | Generally, all geyser sites are located close to active volcanic areas. |
| Lifespan | Hot springs are a permanent phenomenon. | Geysers are temporary geological phenomena. The lifespan of geysers is a few thousand years at most. |
| Flow | A hot spring flows freely to the surface. | A geyser is plugged with an obstruction near the opening of the spout. |
| Occurrence | Hot springs are relatively common phenomena. | Geysers are relatively rare phenomena. |