A Proportionate counter is an instrument for detecting and measuring the intensity of ionizing radiation. It is similar to a Greiger Mueller counter but operates at a lower potential difference such that the magnitude of the discharge is directly proportional to the number of gas molecules ionized by the detected particle. This may permit the identification of the particle or the determination of its energy.
Advantages of a Proportional Counter
Proportionate counter detection instruments are very sensitive to low levels of radiation.
Through a proportionate counter it is possible to distinguish the larger pulses produced by alpha particles from the smaller pulses produced by beta particles or gamma rays.
Proportionate detector is useful for dose rates since the output signal is proportional to the energy deposited by ionization and therefore proportional to the dose rate.
Proportionate counter has a high amplification factor.
Disadvantage of A Proportional Counter
Proportional counter require a very stable power supply and amplifier to ensure constant operating conditions.
A Greiger Mueller counter is a device used for the detection and measurement of all types of radiation. It consists of a gas-filled tube containing a fine wire anode along the axis of a cylindrical cathode with a potential difference of several hundred volts. Any particle or photon which ionizes any number of gas molecules in the tube causes a discharge which is registered by electronic equipment. The magnitude of the discharge does not depend upon the nature or the energy of the ionizing particle.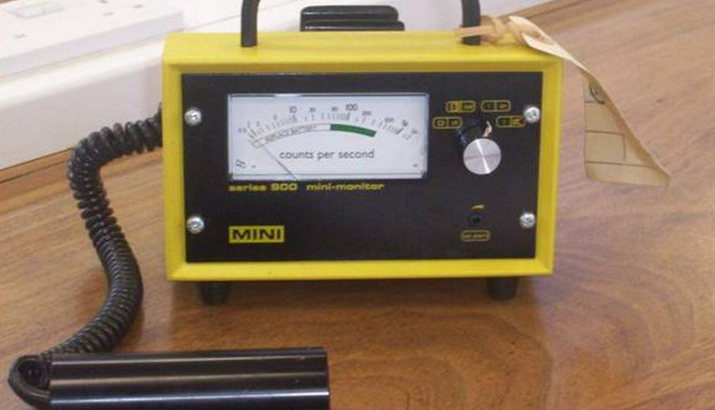 Advantages of a GM Counter
They are inexpensive
They are durable and easily portable
They can detect all types of radiation
Disadvantages of a GM Counter
They cannot differentiate which type of radiation is being detected
They cannot be used to determine the exact energy of detected radiation
They have low efficiency
Also Read: Difference between GM Counter And Scintillation Counter
GM Counter Vs. Proportionate Counter In Tabular Form
| | | |
| --- | --- | --- |
| Basis of Comparison | GM Counter | Proportional Counter |
| Description | GM counter is a device used to detect and quantify radiations; it detects ionizing radiation such as alpha particles, beta particles and gamma particles using the ionization effect produced in a Greiger-Muller tube. | Proportional counter is a device used to detect and quantify radiations, it is able to detect the energy of incident radiation and produce an output proportional to the intensity of the radiation. |
| Operation | GM counter operates in avala mode. | Proportional counter operates in linear mode. |
| Detection of Uncharged Particles | GM counter can detect uncharged particles such as neutrons. | Proportional counter cannot detect uncharged particles. |
| Resolving Power | Resolving power of the GM counter is low. | Resolving power of the proportional counter. |
| Detection of Low Energy Radiations | GM counter cannot detect low energy radiations. | Proportional counter can detect low energy radiations. |
| Pulse Voltage Amplification | GM counter does not require pulse voltage amplification. | Proportionate counter requires pulse voltage amplification. |
| Voltage Pulse | Voltage pulse in GM counter is very high. | The voltage pulse in proportional counter is low. |
| Pulse Height | In GM counter, the pulse height is independent of the energy of the incident particles. | In Proportional counter, the pulse height is proportional to the energy of the incident ionizing radiation. |
| Device Performance | GM counter is better at measuring the activity of the source. | The proportional counter is better at measuring the dose rate of the source. |
| Average Current Flow | The average current flow in the detector is a function of only activity of the source. | The average current flow in the detector is a function of both the activity and the energy of the source. |
| Energy Pulse | The energy pulse measured by the detector is not proportional to the energy of the radioactive particle. | The energy pulse flow measured by the detector is proportional to the energy of the radioactive particle. |