Clinical Thermometer
A clinical thermometer also referred to as medical thermometer is used for measuring human or animal body temperature. The thermometer consists of a cylindrical bulb which is filled with mercury. A capillary tube of uniform and a fine bore is attached to the bulb. The fine capillary tube has a constriction, which enables the recording of the utmost temperature of the body without the need for haste. Since the temperature of human body varies from 95oF to 110oF, the thermometer is calibrated in this temperature range. Each degree is divided into five small equal divisions.
To determine the temperature, a person has to hold the tip of the thermometer either under the armpit or in the mouth under the tongue for a minute. Then the number against the point at which the mercury line stops growing further indicates the body temperature of the person. Before using the thermometer again it should be shaken thoroughly so that mercury level goes back to the bulb. Also, clinical thermometers must be sterilized before use for the safe and clean check-up.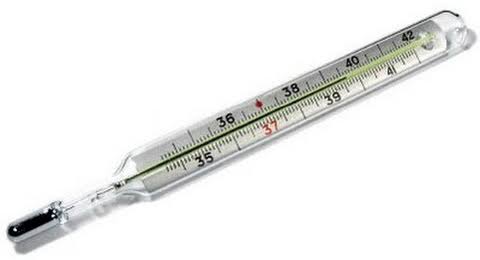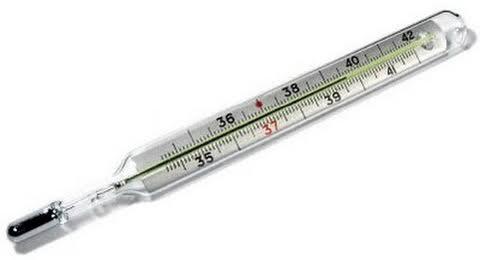 What You Need To Know About Clinical Thermometer
Clinical thermometer is scaled from 35oC to 42oC or from 94oF to 108oF.
Mercury level does not fall on its own, as there is a kink near the bulb to prevent the fall of mercury level.
Temperature can be read after removing the thermometer from armpit or mouth.
To lower the mercury level jerks are given.
Can be tilted while taking readings.
Clinical thermometer is used to take the body temperature.
Laboratory Thermometer
A laboratory thermometer is used in laboratories to measure temperature with high accuracy. It can be partially or fully immersed in the substance being measured. A laboratory thermometer is recognizable by its long stem with a silver bulb at the end. The silver color in the bulb normally indicates the presence of mercury. Mercury expands as the temperature increase, thus raising the reading, while decreasing temperatures contract the mercury, lowering the reading.
A laboratory thermometer can be used for a number of scientific applications and can be found across nearly all laboratories especially in pharmaceutical, environmental, food and petroleum testing. A laboratory thermometer is generally scaled from -10oC to 110oC, however, the range of measurement can vary widely between models. There are many types of lab thermometers such as differential, mechanical, logging etc.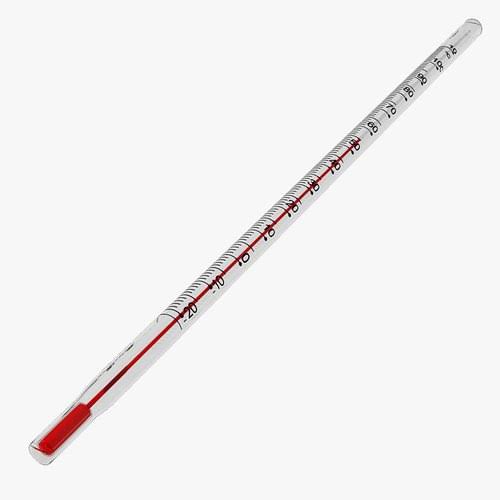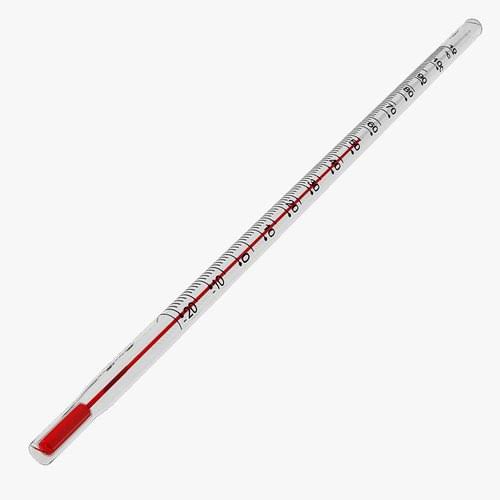 What You Need To Know About Laboratory Thermometer
Laboratory thermometer is generally scaled from -10oC to 110oC.
Mercury level falls on its own as no kink is present.
Temperature is read while keeping the thermometer in the source such as liquid or anything.
No need to give jerk to down the mercury level, automatically.
It is always kept upright while taking a reading.
Laboratory thermometer is used to take the temperature of substances in the laboratory.
Difference Between Clinical And Laboratory Thermometer In Tabular Form
| | | |
| --- | --- | --- |
| BASIS OF COMPARISON | CLINICAL THERMOMETER | LABORATORY THERMOMETER |
| Scale | Clinical thermometer is scaled from 35oC to 42oC or from 94oF to 108oF. | Laboratory thermometer is generally scaled from -10oC to 110oC. |
| Mercury Level | Mercury level does not fall on its own, as there is a kink near the bulb to prevent the fall of mercury level. | Mercury level falls on its own as no kink is present. |
| Reading | Temperature can be read after removing the thermometer from armpit or mouth. | Temperature is read while keeping the thermometer in the source such as liquid or anything. |
| Jerk | To lower the mercury level, jerks are given. | No need to give jerk to down the mercury level, automatically. |
| Position | Can be tilted while taking readings. | It is always kept upright while taking a reading. |
| Use | Clinical thermometer is used to take the body temperature. | Laboratory thermometer is used to take the temperature of substances in the laboratory. |