What Is Amine?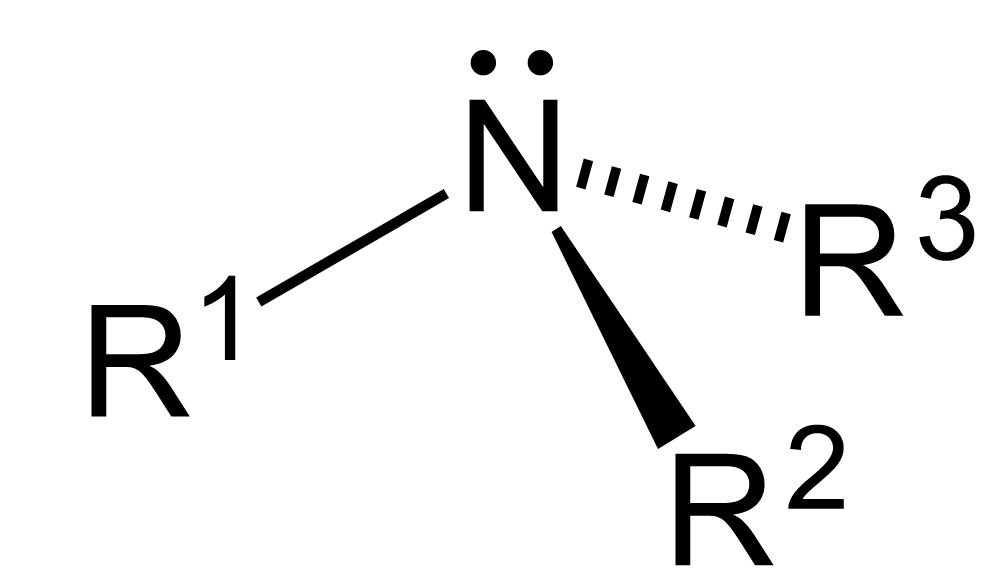 In organic chemistry, amines are compounds and functional groups that contain a basic nitrogen atom with a lone pair. Amines are formally derivatives of ammonia, wherein one or more hydrogen atoms have been replaced by substituent such as an alkyl or aryl group. Sometimes amines in which both types of substituent are attached to one nitrogen atom may be referred to as Alkylarylamines.
Amines can be classified according to the nature and number of substituents on nitrogen, that is Aliphaticamines and Aromatic amines. Aliphatic amines contain only H and alkyl subsitituents whereas Aromatic amines have the nitrogen atom connected to an aromatic ring.
Important amines include amino acids, trimethylamine, aniline and biogenic amines. Also, inorganic derivatives of ammonia such as monochloramine are also referred to as amines.
Amines are widely used in dyeing industries such as methyl orange, sunset yellow etc. They are also used to remove CO2 from combustion gases and flue gases and may have potential for abatement of greenhouse gases.
What You Need To know About Amine
Amine is an organic compound which is made up of one or more nitrogen atoms which are bonded to alkyl groups.
The nitrogen atom in an amine has a lone pair of electrons and three bonds to other atoms, either carbon or hydrogen.
The reaction of ammonia with an alkyl halide results to the formation of a primary amine. This process can be referred to asalkylation of ammonia.
Amines are named either by adding the prefix ''amino'' or the suffix ''amine'' before and after the parent term, in the respective order.
The strength of primary, secondary and tertiary amines are quite similar.
Given that nitrogen has a normal valence of three, there are two N-H bonds in primary amines and one N-H bond in secondary amines. In tertiary amines, there are no N-H bonds.
In amines, the bonds connected to the nitrogen are shaped like a flattened pyramid and therefore the arrangement can be described as pyramidal.
According to the type of alkyl group that has been attached, amine can further be classified to aliphatic amines (amines with no ring structure) and Aromatic amines (Amines with ring structure).
The distinguishing chemical property of amines is that they are bases. This is due to the fact that there is presence of unshared pair on the nitrogen, which makes them Lewis bases.
The hydrolysis of an amide produces a carboxylic acid and ammonia or an amine.
The boiling point of amines is greater than the boiling point of corresponding alkanes because of the presence of hydrogen bond between two amines as well as van der waals dispersion force and dipole-dipole interactions.
Unlike most of other organic compounds, amines are soluble in water due to formation of hydrogen bonding between amine and water molecule.
Amines mostly have a low molecular weight and therefore they exist as gases at room temperature and are easily vaporized.
What Is Amide?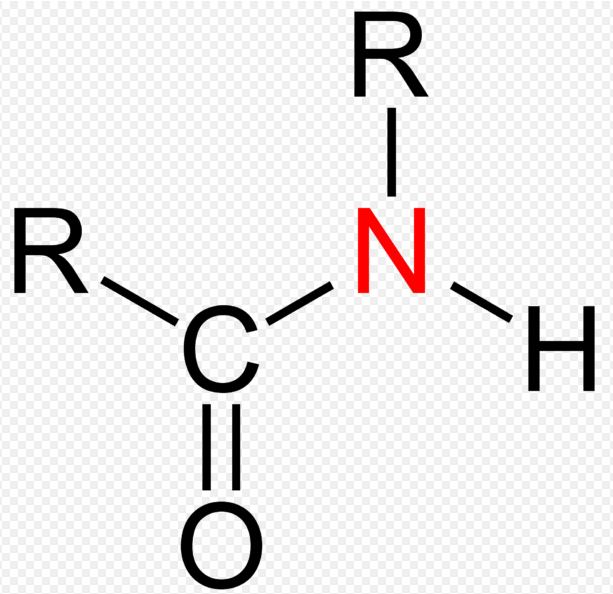 An Amide also referred to as an acid amide, are functional groups in which a carbonyl carbon atom is linked by a single bond to a nitrogen atom and either a hydrogen or a carbon atom. Amides are usually considered derivatives of carboxylic acids in which the hydroxyl group has been replaced by an amine or ammonia. The lone pair of electrons on the nitrogen is delocalized into carbonyl, thus forming a partial double bond between N and the carbonyl carbon.
Amides can be classified as primary amide, secondary amide and tertiary amide according to the number of carbons bonded to the nitrogen.
Amides are due to structural rigidity, they are in the manufacturing of structural materials. Other low weight amides are used as common solvents e.g dimethylformamide. Also, many drugs such as paracetamol, penicillin and LSD are amides.
It is important to note that, amides comparatively are less soluble than amines and carboxylic acids because these compounds can both donate and accept hydrogen bonds.
What You Need To Know About Amide
Amide is an organic compound or molecules that contain nitrogen atoms connected to the carbon atom of carbonyl group.
The carbon-nitrogen bond in amide is referred to as amide linkage. The bond can also be referred to as peptide linkage in protein molecules.
In amides, the electrons of three p orbitals on three atoms oxygen, carbon and nitrogen are on the same plane and delocalized.
Other than amides such as methanamide which are liquid at room temperature, other higher carbon chain amides are solid at room temperature. This is due to the presence of intermolecular hydrogen bond between the partially positive hydrogen atoms attached with nitrogen of one molecule and partially negative charged oxygen atom in another molecule.
Amides have a high melting point, due to hydrogen bonding which requires more energy to break.
Short chain amides are soluble in water due to the fact that they have hydrogen bond with water molecules. As the carbon chain increases, the solubility decreases, because the long chain gets in the way of hydrogen bond.
Amides usually act as both bond donor and acceptor. The nitrogen and oxygen atom act as acceptor and hydrogen atom act as donor.
Amides can be produced when carboxylic acids react with amines or ammonia in a process referred to as amidation.
Amides are named by adding the suffix "amide'' after the parent term.
Amides can be classified as primary amide, secondary amide and tertiary amide according to the number of carbons bonded to the nitrogen.
In primary amide, the nitrogen atom is not bonded to any alkyl group whereas in secondary amides, the nitrogen atom is bonded to a single alkyl group and lastly, in tertiary, the nitrogen atom is bonded to two alkyl groups.
Generally, amides resist hydrolysis in plain water, even after prolonged heating. In presence of added acid or base, hydrolysis proceeds at a moderate rate.
Also Read: Difference Between Condensation And Additional Polymerization
Difference Between Amine And Amide In Tabular Form
| | | |
| --- | --- | --- |
| BASIS OF COMPARISON | AMINE | AMIDE |
| Description | Amine is an organic compound which is made up of one or more nitrogen atoms which are bonded to alkyl groups. | Amide is an organic compound or molecules that contain nitrogen atoms connected to the carbon atom of carbonyl group. |
| Naming | Amines are named either by adding the prefix ''amino'' or the suffix ''amine'' before and after the parent term, in the respective order. | Amides are named by adding the suffix "amide'' after the parent term. |
| Carbonyl Group | Have no carbonyl group in their structure. | Have carbonyl group in their structure. |
| Boiling Points | Have relatively lower boiling points. | Have relatively higher boiling points. |
| Classification | Can be classified into Aliphatic amines (amines with no ring structure) Aromatic amines (Amines with ring structure). | Amides can be classified as Primary amide Secondary amide Tertiary amide |
| Production | The reaction of ammonia with an alkyl halide results to the formation of a primary amine. This process can be referred to as alkylation of ammonia. | Amides can be produced when carboxylic acids react with amines or ammonia in a process referred to as amidation. |
| Solubility | Amines are soluble in water but solubility decrease with increase in number of chains. | Short chain amides are soluble in water; however solubility decreases as the number of chains increase. |
| Chemical Properties | Show basic characteristics. | Show acidic characteristics. |
| Atoms | Composed of C, H and N atoms. | Composed of C, H and O atoms. |
| Physical State At Room Temperature | Low molecular weight amines are gases at room temperature or are easily vaporized. | Most amides are solids at room temperature. |