White Sperm/Semen
Semen, also referred to as seminal fluid, is a fluid that is emitted from the male reproductive tract and that contains sperm cells, which are capable of fertilizing the female eggs. Semen also contains other liquids known as seminal plasma, which help to keep the sperm cells viable.
Semen is a thick, white fluid. White thick semen usually results from a higher than normal concentration of sperm in a typical volume of semen.
Healthy semen is usually a cloudy white or grey fluid with a jelly-like consistency. White sperm (semen) is usually seen among men who rarely have sex or who don't masturbate regularly.
Avoidance of masturbation or long time of celibacy results to thicker, cloudier and more viscous semen, which is also an indication of high sperm count. The viscous substance in the semen means that semen is full of sperm. White, cloudy sperm is always better when compared to clear or watery semen in terms of fertility and verity.
Clear/Watery Sperm
Usually, semen is a thick, whitish liquid; however, several conditions can change the color and consistency of semen with varying implications for the individual. Watery/clear semen can be a sign of low sperm count or the fact that some fertility problems could exist.
In many cases, when a thin, watery kind of semen is produced during ejaculation, it is often a temporal condition that is not caused by any serious medical problem and is therefore it should always not be a cause for concern.
Frequent ejaculation among sexually active men who have sex often with multiple partners or those who engage in masturbation frequently, their body may not have enough time to produce the same volume or quality semen. This is usually the common cause of watery semen. If someone masturbates or has had sex several times a day, the quality of semen after the first production is usually watery, though this does not translate to a fertility problem should semen be examined at that particular time,.
The anti-sperm antibodies produced by the immune system, forms an antibody-antigen complexes therefore destroying the sperms and result in production of semen that is poor in cell content but rich in fluids.
Also, during ejaculation, semen passes through the urethra and out of the penis. However, a dysfunction bladder sphincter can cause semen to travel backward into the bladder, resulting in a condition referred to as retrograde ejaculation. People who experience retrograde ejaculation may produce less semen or semen that appears thin/clear or watery.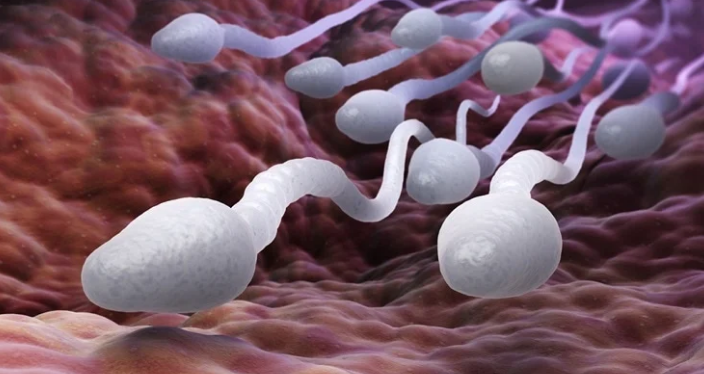 Characteristics of Healthy Sperm
Thick sperm texture. The primary characteristic of healthy sperm can be indicated from its thickness. If the sperm is thick and sticky, it means that you are in good health.
White or cloudy-white.When ejaculating, try to look at the color of the sperm. If it is white or cloudy-white, it means you have healthy sperm.
Quantity of the sperm. The number of sperm released during ejaculation is also a determining factor if the sperm is healthy. To increase your sperm count, you can start by having a healthy lifestyle (exercising regularly, having a healthy diet, sleeping well).
Sperm Morphology: The structure of the sperm is known as its morphology. Sperms generally have long tails and oval heads, which can work together and also move. The more chances of fertility you will have if the sperms have standard structure and shape.
Characteristics of Unhealthy Sperm
Below are some of the signs of unhealthy sperm that you should watch out for:
Watery or clear semen
Foul-smelling sperm
Sperms with strange color
Testosterone, the male sex hormone, and sperm are being made in the testes. Sperm is accompanied by fluid while traveling to the reproductive system and is further ejaculated or release during the time of intercourse.
The health and the quality of the sperm of a man are affected by:
Smoking
Consuming alcohol
Age
Sexually transmitted infections
Overweight
Anabolic steroids
Injury
Heat
Also Read: Difference Between Male And Female Urethra
White vs Clear Sperm In Tabular Form
| | | |
| --- | --- | --- |
| Basis of Comparison | White Sperm | Clear sperm |
| Description | White sperm (semen) is the ejaculated fluid usually seen among men who rarely have sex or who don't masturbate regularly. This normally results to thicker, cloudier and more viscous seminal quality. | Clear sperm (semen) is usually seen as a pre-ejaculated fluid or pre-cum. It is the fluid that will get out of male sexual organ's urinary meatus before climax in sex or during foreplay. |
| Quality | White sperm is more viscous, thick and cloudy. | Clear sperm is less viscous or less cloudy (watery substance). |
| Sperm Count | White sperm has high sperm count. The viscous substance in the semen means that semen is full of sperm. | Clear sperm has a low sperm count. |
| Clot | White sperm usually clot as soon as it is ejaculated and then it becomes a jelly-like substance. | Clear sperm does not clot quickly as soon as it is ejaculated. It spreads like a thin liquid substance. |
| Prevalence | The white sperm ejaculation is common in mature males or individuals who ejaculate less frequently as compared to those who ejaculate (masturbate) more frequently. | Clear sperm ejaculation is common to males who have reached puberty or those who masturbate or ejaculate more frequently. |
| Reproduction | White sperm is perfect for reproduction. | Clear sperm is less efficient for reproduction. |
| Other possible causes | A good general healthA good dietLack of sex, less-frequent sex | AlcoholPoor diet especially to those engaged in exercising.Heredity Less semen after ejaculationMedical conditionsFructose deficiency in diet |
| Health Indicator | White sperm ejaculation is more often considered as a sign of fertility and a sign good reproductive health. | Clear sperm can be a sign of a poor reproductive health, especially if ejaculation goes on for a considerable period of time. |
Also Read: Difference Between Spermatogenesis And Oogenesis
Key Takeaways
Both white and clear sperm can be fertile and capable of fertilizing an egg, although sperm quality can vary between individuals.
The appearance and characteristics of sperm can change with age, with older men often producing sperm that is more watery in appearance.
Certain lifestyle factors such as smoking, alcohol use, and poor diet can impact sperm quality and function, regardless of the color or appearance of semen.
Certain medical conditions such as infections, hormonal imbalances, and genetic disorders can also affect sperm production and quality, which may impact the appearance of semen.