Learn the difference between homo sapien and Homo erectus. The basis of comparison include: evolution, teeth, brain capacity, legs and arms, habitat, speech, eyes, forehead, intelligence and more.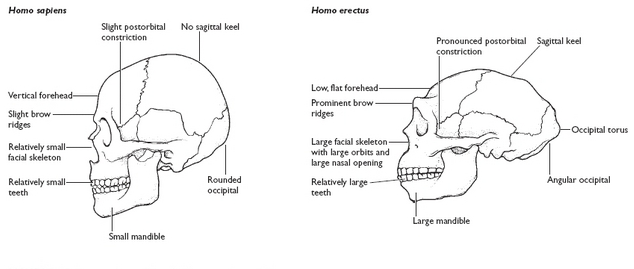 Homo erectus
Homo erectus commonly referred to as 'upright man', is a species of archaic humans that lived throughout most of the Pleistocene geological epoch. Its earliest fossil evidence dates to 1.8 million years ago. Homo erectus is often referred to as the first cosmopolitan hominin lineage, meaning the first hominin species whose geographical range had expanded beyond a single continental region. While fossil remains from Homo erectus are found in Africa, like those of earlier hominins, they have also been identified at fossil sites like in Dmanisi, Gorgia, Bodo in Ethiopia, Nandong in Indonesia, Ceprano in Italy, Olduvia George in Tanzania and Koobi Fora in Kenya. Some of the characteristics of Homo erectus include:
First discovered in Java Indonesia by Eugene Dubois.
Found across Europe, Africa and Far East.
Had a big brain capacity than that of previous hominids. The brain capacity was between 900 and 1200 cubic centimeters.
Walked in an upright posture.
Had bipedal movement (Walked on two legs).
Had slender arms and legs.
Had relatively flatter face, prominent cheekbones and large brow-ridges.
Homo erectus was taller and more slenderly build than all other Homo species. The average height was 5 ft and 10 inch.
Homo erectus got their food through hunting and gathering.
Had shovel-shaped teeth larger than those of homosapien.
Homo erectus females were significantly smaller than males.
Homo erectus ate meat, along with nuts, fruits and berries.
Had advanced Acheulean tools for hunting, gathering and defense.
Archaeological evidence shows that Homo erectus used fire.
The cranial base analysis of the Homo erectus skulls suggests that they could indeed speak. (had a primitive speech.
Homo sapien
Homo is a Latin word for 'human' or 'man' and sapien is derived from a Latin word that means 'wise' or 'astute'. Homo sapiens evolved in Africa from Homo heidelbergensis . They co-existed for a long time in Europe and the Middle East with the Neanderthals and possibly with Homo erectus in Asia and Homo florosiensis in Indonesia, but are now the only surviving human species. African fossils provide the best evidence for evolutionary transition from Homo sapiens and then to early modern Homo sapiens. Some of the key characteristic features of Homo sapiens include:
Height and Brain Size
Homo sapiens living today have an average brain size of about 1350 cubic centimeters which makes up 2.2% of the body weight.
Homo sapien (modern humans) have an average height of about 160 centimeters in females and 175 centimeters in males.
Limbs and Pelvis
Limb bones are thinner and less robust than earlier human species and indicate a reduction in muscle size from earlier humans.
Pelvis is narrower from side to side.
Legs are relatively long with arms.
Fingers and toe bones are straight and without the curvature.
Skull
Modern sapiens have a short base and a high braincase. Unlike the skull is broadest at the top. The fuller braincase also results in almost no post-orbital constriction or narrowing behind the eye sockets.
The back of the skull is rounded and indicates a reduction in neck muscles.
Brow ridge is limited and the forehead is taller
The face of homo sapien is reasonably small with a projecting nose bone.
The back of the skull is rounded and indicates a reduction in neck muscles.
Eye sockets are square rather than round.
Jaw and Teeth
Jaws are short, lightly build and have a protruding bony chin for added strength.
They usually do not have retromolar space between the last molar teeth and the jaw bone.
Teeth are relatively small when compared with those of earlier species.
Frontal premolar teeth in the lower jaw have two equal-sized cusps.
Also Read: Difference Between Homo sapien and Neanderthal
Difference Between Homo erectus And Homo sapien In Tabular Form
| | | |
| --- | --- | --- |
| BASIS OF COMPARISON | HOMO ERECTUS | HOMO SAPIEN |
| Existence | An extinct species. | Presently living species. |
| Evolution | Evolved from Australopithecus. | Evolved from European early modern human beings. |
| Habitat | Lived in Africa and Eurasia. | Widely distributed all over the world. |
| Teeth | Had large teeth. | Have small teeth. |
| Intelligence | Less intelligent when compared to the homo sapien. | Intelligent species. |
| Speech | Had a primitive speech | Had comparatively developed speech. |
| Legs and arms | Had longer legs and slender arms. | Legs are short and arms are less slender. |
| Brain Capacity | Had a big brain capacity than that of previous hominids. The brain capacity was between 900 and 1200 cubic centimeters. | Homo sapiens living today have an average brain size of about 1350 cubic centimeters which makes up 2.2% of the body weight. |