What Is Stepper Motor?
A stepper motor, also referred to as step motor or step ping motor, it is a brushless DC electric motor that divides a full rotation into a number of equal steps. Like all other motors, steppers also have a stator and a rotor, but unlike a normal DC motor the stator consists of individual sets of coils. The number of coils will differ based on type of stepper motor, but for now just understand that in a stepper motor the rotor consists of metal poles and each pole will be attracted by a set of coil in the stator.
Every revolution of the stepper motor is divided into a discrete number of steps, in many cases 200 steps and the motor must be sent a separate pulse for each step. The stepper motor can only take one step at a time and each step is the same size.
Given that each pulse causes the motor to rotate at a precise angle, the motor's position can be controlled without any feedback mechanism. As the digital pulses increase in frequency, the step movement changes into continuous rotation, with the speed of rotation directly proportion to the frequency of the pulses.
There are three main types of stepper:
Permanent magnet stepper
Variable reluctance stepper
Hybrid synchronous stepper
Also stepper motors can be classified as Unipolar or Bipolar based on the type of stator winding.
What You Need To Know About Stepper Moto
Servo motors are typically sized for twice their continuous requirements for additional acceleration and/or deceleration torque capability or for a required peak torque.
Stepper motors are less likely to be damaged by mechanical overload.
Stepper motor generates high torque over a low range of speed.
Stepper uses multiple toothed electromagnets arranged around a central gear to define position.
Stepper motors have high responsiveness (synchronous operations easier).
The bearings on stepper motor are the only wearing parts. This gives stepper motor an advantage of lifespan.
It is suitable for fluctuating loads.
Stepper motors vibrate slightly and have some resonance issue.
Stepper motors draw excess current regardless of load. The excess power is dissipated as heat.
Stepper motor achieves position and speed control without feedback.
Stepper motors have many poles, typically 50 to 150 brushless. A pole is an area of a motor where a North or South magnetic pole is generated either by a permanent magnet or by passing through the coil of a winding.
Stepper motor has faster positioning time during short stroke.
Stepper motors do not require encoders since they can accurately move between their poles. An encoder is a device which is used to convert physical action into electrical signal to give closed loop feedback.
Stepper motors are available in two types: unipolar and bipolar. Bipolar motors are the strongest type of stepper motor and usually have four or eight leads. Unipolar motors on the other hand, can step without having to reverse the direction of current in the coils, making electronics simpler.
What Is Servo Moto?
A servo motor is referred to as Servos, is an electrical device which can push or rotate an object with great precision. In case you need to rotate an object at some specific angles or distance, then you use servo motor. It is just made up of simple motor which run through servo mechanism.
A servo motor contains an encoder which converts the mechanical motion (turns of the shaft) into digital pulses interpreted by a motion controller. It also contains a driver and in conjunction, they make up a circuit that governs the position, torque and speed.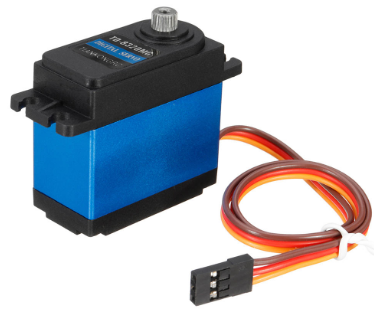 Parts of a Servo Motor
An electric motor: This is in charge of generating the motion through its shaft.
A potentiometer: It is connected to the central shaft and informs at all times the angle in which the motor's shaft is positioned.
A control system: This system allows for control over the motor's motion by sending electric pulses.
Driversystem: It is formed by gear which may increase or decrease the speed and torque.
What You Need To Know About Servo Moto
Servo motors are generally sized for the specific application velocities and torques for maximum intermittent acceleration/deceleration, holding torque (if applicable) and continuous RMS requirements over the complete motion profile.
Servo motors may malfunction if overloaded mechanically.
Servo motors generate high torque over a wide speed range. In simple words, torque is the twisting moment required to rotate a thing.
Servo motor uses a continuous rotation DC motor and integrated controller circuit.
Servo motors have responsiveness (synchronous operations not easy).
The brushes on servo motors must be replace every 2000 hours of operation. Also encoders may require replacing.
It is not suitable for fluctuating loads.
Servo motors do not vibrate or have resonance issues.
Since the current draw of servo motor is proportional to the load applied, heat production is very low.
A servo is used to achieve speed or position control using its feedback device through closed loop control.
Servo motors have only 4 to 12 poles.
Servo motor has faster positioning time during long strokes.
In servo motors, an encoder is a mandatory device to track the accuracy of their position.
Servo motors are designed for more specific tasks where position needs to be defined accurately such as controlling the rudder on a boat or moving a robotic arm or robot leg within a certain range.
Also Read: Difference Between 2 Pole And 4 Pole Motor
Difference Between Stepper Motor And Servo Motor In Tabular Form
| | | |
| --- | --- | --- |
| BASIS OF COMPARISON | STEPPER MOTOR | SERVO MOTOR |
| Description | Servo motors are typically sized for twice their continuous requirements for additional acceleration and/or deceleration torque capability or for a required peak torque. | Servo motors are generally sized for the specific application velocities and torques for maximum intermittent acceleration/deceleration, holding torque (if applicable) and continuous RMS requirements over the complete motion profile. |
| Mechanical Overload | Stepper motors are less likely to be damaged by mechanical overload. | Servo motors may malfunction if overloaded mechanically. |
| Torque | Stepper motor generates high torque over a low range of speed. | Servo motors generate high torque over a wide speed range. |
| Components | Stepper uses multiple toothed electromagnets arranged around a central gear to define position. | Servo motor uses a continuous rotation DC motor and integrated controller circuit. |
| Responsiveness | Stepper motors have high responsiveness (synchronous operations easier). | Servo motors have responsiveness (synchronous operations not easy). |
| Lifespan | The bearings on stepper motor are the only wearing parts. This gives stepper motor an advantage of lifespan. | The brushes on servo motors must be replace every 2000 hours of operation. Also encoders may require replacing. |
| Suitability | It is suitable for fluctuating loads. | It is not suitable for fluctuating loads. |
| Vibration | Stepper motors vibrate slightly and have some resonance issue. | Servo motors do not vibrate or have resonance issues. |
| Heat Production | Stepper motors draw excess current regardless of load. The excess power is dissipated as heat. | Since the current draw of servo motor is proportional to the load applied, heat production is very low. |
| Feedback | Stepper motor achieves position and speed control without feedback. | A servo is used to achieve speed or position control using its feedback device through closed loop control. |
| Poles | Stepper motors have many poles, typically 50 to 150 brushless. | Servo motors have only 4 to 12 poles. |
| Positioning Time | Stepper motor has faster positioning time during short stroke. | Servo motor has faster positioning time during long strokes. |
| Encoders | Stepper motors do not require encoders since they can accurately move between their poles. | In servo motors, an encoder is a mandatory device to track the accuracy of their position. |