They are widely domesticated in South America as meat animals and transportation animals. Both species are primarily found in Peru, Ecuador, Chile, Argentina and Bolivia. The llama and Alpacas are members of the camel family, closely related to alpaca, guanaco and vicuna, which are known collectively as lamoids. Unlike camels, lamoids do not have the characteristic camel humps; they are slender-bodied animals and have long legs and neck, with short tails, small heads and large pointed ears. The lamoids graze on grass and like cows, regurgitate their food and chew it as cud. They are also able to interbreed and to produce fertile offspring.
Llama
The llama has been domesticated by Andrean cultures since the Pre-Columbian era. Llamas are very social animals and live with others as a herd. The llama is generally a pack animal but it is also used as a source of food, wool, hides, and tallow for candles and dried dung for fuel.
The llama is the largest lamoid, a full-grown llama can reach a height of 1.7 to 1.8 m at the top of the head and can weigh between 130 and 200 kg. The llamas can carry a load of 45-60 kg and averages 25 to 30 km travel a day. When overloaded or angry, the llama will lie down, hiss, spit and kick and refuse to move. Llamas are not ruminants, they are pseudo-ruminants; they have only three stomach compartments with extremely long and complex large intestine.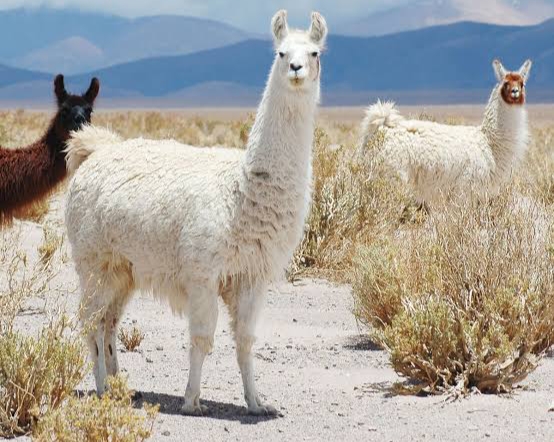 Although, usually white, the llama may be solid black or brown, or it may be white with black or brown markings. Llama fibre is used, alone or in blends for knitwear and for woven fabrics made into outwear. It is used locally for rugs, rope and fabric.
Llamas breed in the late summer and fall, from November to May (South Hemispheric). The gestation period lasts about 11 months and the female gives birth to one 'llama-baby'. Llamas typically live for 15 to 25 years, with some individuals surviving 30 years or more.
What You Need To Know About Llama
Llama's ears are tall and long, they stand up in a shape that looks like a banana.
Llama's fiber is more coarse, normally 50-65 microns and not as suitable for garments, however, the fiber can be used to make rugs, ropes or other items.
Llamas are larger than Alpacas, about 120 cm (47 inches) at the shoulder and about 113 kg (250 pounds)
Llamas have longer noses and much less fur on their face.
Llama's hair is coarser when compared to that of the Alpacas
Llamas usually grow unique spotting and multicolored fur ranging from shades of white, brown, black and red.
Due to their body size, llamas are independent and more confident when threatened. They are better able to protect themselves. The llamas will live peacefully with the alpacas and protect them if threatened by a predator.
Llamas are work animals, bred as pack animals and to help guard other livestock like alpacas and sheep.
Llamas are sure footed and strong enough to carry up to one third of their body weight and therefore are bred mostly to be a pack-carrying animal.
Alpaca
Alpacas are widely regarded as the cutest of the camelid family. They are social herd animals that live in family groups. A full-grown alpaca is approximately 35 inches high at the shoulder and weighs between 55 to 65 kg. It is covered entirely by a shaggy wool and is characterized by its straight ears, pointed like a spearhead, with a rather rounded back. Alpacas also have long necks and two toes with two pads and two nails each. They look much like a long-necked sheep or a llama. The alpaca differs from the llama in having a rounded, rather than squarish body and in its habit of pressing its tail close to the body rather than holding it erect, as does the llama.
The alpaca's shaggy coat varies in color from the usual black or brown through lighter shades of gray and tan to pale-yellow and occasionally white. The alpacas can breed at any time but it is more difficult to breed in the winter. Most breed during autumn or late spring. Generally alpacas live between 15 to 20 years. The longest ever documented lifespan of an alpaca is 28 years.
The alpacas are a modified ruminant and chew their cud similar to a cow, although they have three stomach compartments, rather than the true ruminants, which has four. Alpacas have no top teeth in the front and they selectively graze, eating pasture grasses and hay.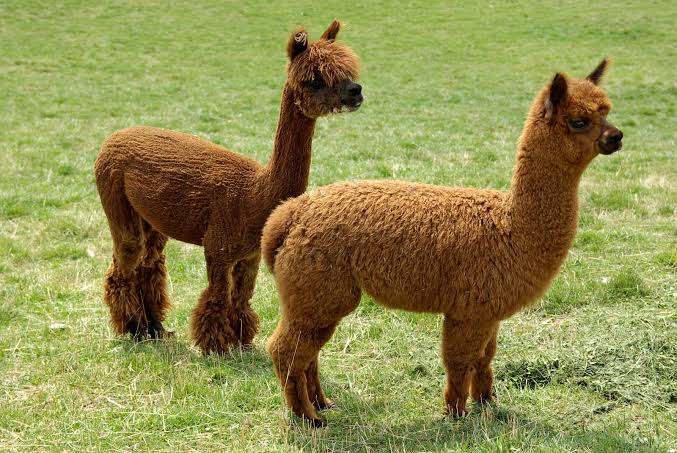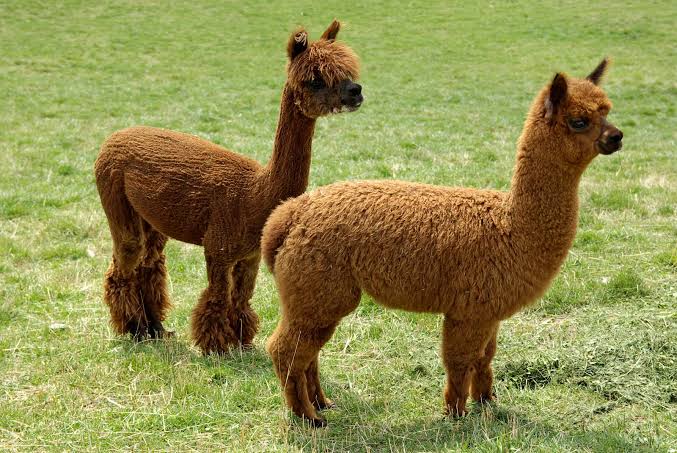 The alpaca comes in two breeds, Suri and Huacaya, based on their fibers rather than scientific classification. Huacaya alpacas are most commonly found , constituting about 90% of the population whereas the Suri alpacas represents a smaller portion of the total alpaca population, around 10%.
The alpaca fiber is generally combined with other fiber and used for making knitted and woven items, similar to sheep's wool. These items include blankets, sweaters, hats, gloves, scarves, a wide variety of textile and ponchos in South America and sweaters, socks, coats and bedding in other parts of the world.
What You Need To Know About Alpacas
Alpacas have shorter, pointy ears that look kind of elf ears
Alpacas have fine, soft fiber, normally 18-30 microns. The fiber is excellent for alpaca's garments like shawls, hats and shocks.
Alpacas are smaller, around 90 cm (35 inches) high at the shoulder and between 55 and 65 kg (121 to 143 pounds).
Alpacas have cute, blunt nose faces, normally with a lot of fur.
Alpacas have shaggy hair that is used for fleeces production.
The wool of alpacas can vary from white to lighter tones of yellow and brown. Their whole bodies, even the faces are covered in fluffy, fine fur. They tend to only have one color of wool covering their whole body.
Alpacas tend to be gentle and shy, needing more protection and care from humans.
Alpacas are bred for their fine fleece. The fleece to make Alpaca Yarn, Alpaca Socks and Alpaca apparel.
Alpacas are much small and not used for trekking due to their size; they generally don't make very good pack animals.
Difference Between Llama And Alpacas In Tabular Form
| | | |
| --- | --- | --- |
| BASIS OF COMPARISON | LLAMAS | ALPACAS |
| Ears | Llama's ears are tall and long, they stand up in a shape that looks like a banana. | Alpacas have shorter, pointy ears that look kind of elf ears |
| Fiber | Llama's fiber is more coarse, normally 50-65 microns | Alpacas have fine, soft fiber, normally 18-30 microns. |
| Size | Llamas are larger than Alpacas, about 120 cm (47 inches) at the shoulder and about 113 kg (250 pounds) | Alpacas are smaller, around 90 cm (35 inches) high at the shoulder and between 55 and 65 kg (121 to 143 pounds) |
| Nose | Llamas have longer noses and much less fur on their face. | Alpacas have cute, blunt nose faces, normally with a lot of fur. |
| Hair | Llama's hair is coarser when compared to that of the Alpacas | Alpacas have shaggy hair that is used for fleeces production. |
| Wool/Fur | Llamas usually grow unique spotting and multicolored fur ranging from shades of white, brown, black and red | The wool of alpacas can vary from white to lighter tones of yellow and brown |
| Nature | Due to their body size, llamas are independent and more confident when threatened | Alpacas tend to be gentle and shy, needing more protection and care from humans |
| Purpose of Domestication | Llamas are work animals, bred as pack animals and to help guard other livestock like alpacas and sheep. | Alpacas are bred for their fine fleece. The fleece to make Alpaca Yarn, Alpaca Socks and Alpaca apparel. |
| Pack-carrying Animal | Llamas are sure footed and strong enough to carry up to one third of their body weight and therefore are bred mostly to be a pack-carrying animal. | Alpacas are much small and not used for trekking due to their size; they generally don't make very good pack animals. |