Leopard
The Leopard is a medium-sized wildcat that is natively found in a variety of different habitats across sub-Saharan Africa and southern Asia. A member of the "Big Cat" family, the Leopard is an agile and opportunistic hunter that has been able to exploit habitats unused by other large felines as it spends a great deal of its time high in the tree branches.
There are seven different sub-species of Leopard which differ in their appearance and geographic location, with the African Leopard being the most common and widespread and the others being the rare Amur Leopard, the Anatolian Leopard, the Barbary Leopard, the Sinai Leopard, the South Arabian Leopard and the Zanzibar Leopard. Although the African Leopard populations are stable throughout much of their natural range, the story is different for the remaining sub-species that are often isolated and critically at risk (the Zanzibar Leopard is actually now thought to be extinct).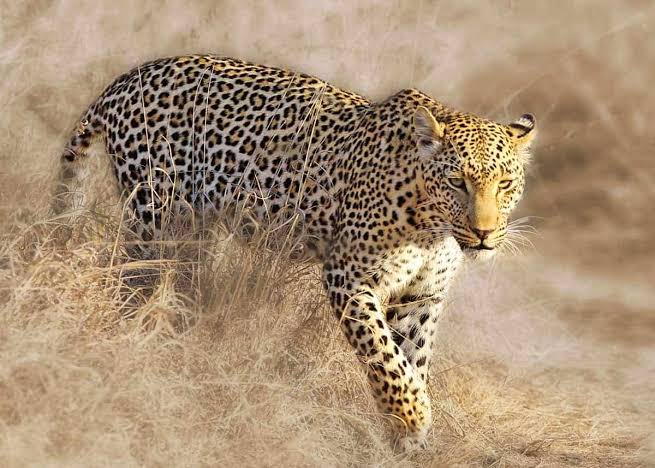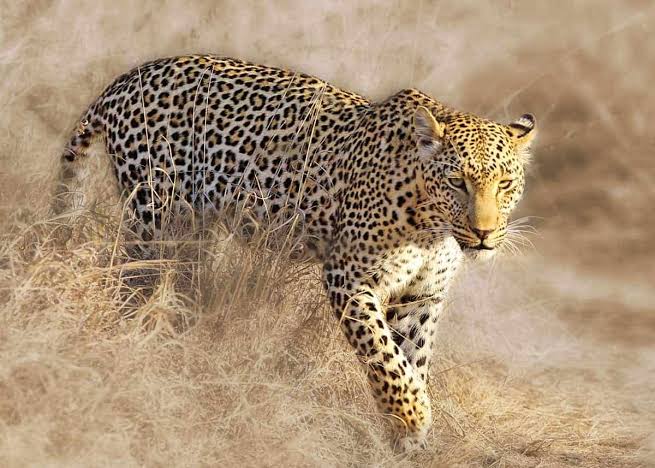 Also Read: Difference Between Grasshopper And Locust
What You Need To know About Leopard
The Leopard is the smallest of the ''big cats'' family, of the genus Panthera, it is native to different habitats across sub-Saharan Africa and Southern Asia.
It has a long and slender body with short, stocky legs and a long tail.
Leopards are incredibly strong and muscular animals and are able to pull themselves up trees using their legs and retractable claws.
Leopards vary greatly in their coloration and markings depending on their surrounding habitat, with those found in open grasslands having a light yellow background coat where those that are found in forests tend to be darker in color and with more markings.
The leopards are highly solitary animals that mark their territory using scent markings and by producing rough, rasping calls that are said to sound like the sawing through coarse wood.
Leopards have a keen hearing and sight coupled with their long and very sensitive whiskers, means that Leopards are also incredibly well adapted to hunting under the cover of night.
The leopards can be found inhibiting numerous different areas provided that there is a good source of cover and an ample supply of food including tropical rainforests, tree-lined savannah, barren deserts and mountain highlands.
The leopard is a silent and opportunist hunter that only hunts and kills other animals in order to survive. It hunts medium sized mammals such as Deer, Warthogs, Antelopes and tapir along with small prey including birds, reptiles and rodents.
Due to the fact that the Leopard is a stealthy and apex predator throughout its natural environment, generally the biggest threat in terms of predation to adult leopards is other leopards, lion or Tiger.
Leopards have no distinctive breeding season with females instead being able to reproduce every couple of months.
Leopard's cubs are incredibly vulnerable in the wild and so remain hidden in dense vegetation until they are able to follow their mother around at between 6 and 8 weeks of age.
Leopards tend to live for between ten and fifteen years in the wild, depending on the habitat and the food supply available.
Also Read: Difference Between Hawk And Falcon
Panther
Ablack pantheris the melanistic colour variant of the leopard (Panthera pardus) and the jaguar (Panthera onca). Black panthers of both species have excess black pigments, but their typical rosettes are also present. They have been documented mostly in tropical forests, with black leopards in Kenya, India, Sri Lanka, Nepal, Thailand, Peninsular Malaysia and Java, and black jaguars in Mexico, Panama, Costa Rica and Paraguay.
The Panther (also commonly known as the Black Panther) is a large member of the Big Cat family. The Panther is not a distinct species itself but is the general name used to refer to any black coloured feline of the Big Cat family, most notably Leopards and Jaguars. The Panther is an elusive and powerful animal that has adapted well to a variety of habitats around the world, and is known to be one of the strongest climbers of all felines. Although the Panther is not technically classified as a separate species, they are considered to be endangered by many due to the declining numbers of both Leopards and Jaguars throughout much of their natural ranges.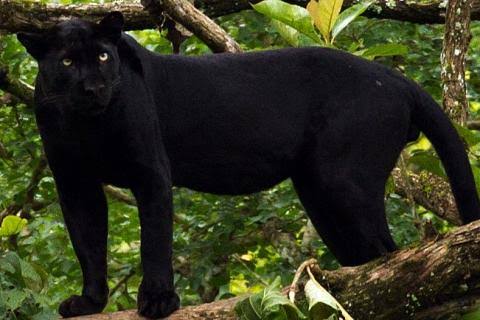 What You Need To Know About Panther
The Panther also commonly referred to as the Black panther is a large member of the Big Cat family, Native to Asia, Africa and the Americas.
Panthers are animals with small heads, strong jaws and emerald green eyes.
The Panther tends to be dark brown to black in color and is otherwise identical to the feline species to which it belongs.
Unlike Leopards and Jaguars, the Panther has no spots on its long body or tail, but instead has a shiny coat of dark fur.
The Panther's hind legs are both larger and tend to slightly be longer than those at the front.
Although they are commonly found in tropical and deciduous forests, the Panther can be found inhibiting both marsh and swampland, along with grasslands and even more hostile areas such as deserts and mountains.
Panthers are incredible climbers and they not only rest high in trees but they are also able to keep a watchful eye out for prey without being spotted.
The Panther is an incredibly intelligent and agile animal that is very rarely seen by people in the wild as they are generally very quiet and cautious animals.
The Panther is a solitary animal that leads a nocturnal life, spending much of the daylight hours resting safely high in trees.
Panther cubs are born blind and do not open their eyes until they are nearly two weeks old.
The panther does not leave the cubs until they are nearly 2 years old and have established a territory for themselves.
The Panther is a carnivorous and one of the powerful predators; it hunts animals such as Deer, Warthogs, Wild Boar, Tapir and Antelope, along with small birds and rabbits.
The female panther usually gives birth to 2 to 4 cubs, after the gestation period of between 3-3.5 months.
Also Read: Difference Between Bobcat and Mountain Lion
Difference Between Leopard And Panther In Tabular Form
| | | |
| --- | --- | --- |
| BASIS OF COMPARISON | LEOPARD | PANTHER |
| Description | The Leopard is the smallest of the ''big cats'' family, of the genus Panthera. | The Panther also commonly referred to as the Black panther is a large member of the Big Cat family. |
| Scientific Name | Panthera pardus | Panthera onca |
| Native Habitat | It is native to different habitats across sub-Saharan Africa and Southern Asia. | Native to Asia, Africa and the Americas. |
| Coat Color | Leopard's coat can be light yellow background coat or darker in color and with more markings. | Black panther has a completely black coat of fur. |
| Eyes | Leopards generally have light-green or blue eyes. | Panther has emerald green eyes. |
| Spots | Leopard has spots on its long body and tail. | Panther has no spots on its long body or tail. |
| Head & Jaws | Leopards have a relatively bigger head and strong jaws. | They have small heads and strong jaws. |
| Ears | They have relatively large rounded ears when compared to panther. | They have small rounded ears. |
| Body Shape | It has a long and slender body with short, stocky legs and a long tail. | Has an elongated, muscular and cylindrical body. |
| Legs | They generally have short legs and a long tail. | Their hind legs are both larger and longer than those at the front. |
| Length | The leopard is approximately 3.0-6.3 feet from head to tail. | The Panther is approximately 4-9 feet from head to tail. |
| Weight | The Leopard weighs between 37-90 kg (82-198 Ib). | The panther can weighs between 36-85Kg. |
| Lifespan | Leopard has a lifespan of 10-12 years in the wild and up to 23 years in captivity. | Panther can live between 10-12 years in the wild and15 years in captivity. |
| Diet | It hunts medium sized mammals such as Deer, Warthogs, Antelopes and tapir along with small prey including birds, reptiles and rodents. | It hunts animals such as Deer, Warthogs, Wild Boar, hares, rodents, Tapir and Antelope, along with small birds and rabbits. |
| Habitat | Desert, Arid regions, Savanna grasslands, Mountainous Environments, Rainforests and occasionally rainforests. | Savanna grasslands, Rainforests and deciduous forests. |
| Gestation Period | Leopard has a gestation period of between 2.5-3.5 months. | Panther has a gestation period of between 3-3.5 months. |
Also Read: Difference Between Bunny And Rabbit