In an era characterized by rapid technological advancement, the way we interact with information has evolved dramatically. As we find ourselves surrounded by an array of digital devices, the traditional paradigms of information storage and dissemination have undergone a profound transformation. Two distinct forms of information representation have emerged as the cornerstones of this digital revolution: the hard copy and the soft copy.
What Is A Hard Copy?
A hard copy sometimes referred to as a printout is a printed copy of information from a computer. It may be a text file, photograph, drawing or any other type of printable file. It is called a hard copy because it exists as a physical object.
Today in this digital world hard copies still considered important for a number of reasons. In some cases, there is the idea that hard copies can act as a backup for digital documents that may be lost or destroyed. In other cases, hard copies are simply easier to keep track of, easier to transport or easier to distribute. There are also instances where hard copies are used as schemas or templates that are marked up with pen or pencil.
Characteristics Of Hard Copy That You Need To Know
Hard copies are physical paper copies.
A hard copy is tangible as it can easily be touched as it is received on a tangible medium like paper.
A hard copy cannot be stored for a long period of time because it often subjected wear and tear.
A hard copy does not require an electronic medium to read and display as is the case with soft copy.
Hard copies require a lot of space and are not easily portable.
The quality of hard copy depends on paper, ink and printer.
Examples of hard copies include documents such as job advertisements, official letters with stamps, attested degrees, property papers, business contracts, paperback editions of books, magazines etc.
Hard copies are relatively expensive to generate.
Large files of Hard copies occupy large spaces and are not easily portable.
A hard copy cannot be altered or manipulated easily.
A hard copy carries some weight.
Hard copy can be shared with others by way of getting another photocopy.
To read a hard copy, one does not require any power-driven medium.
What Is A Soft Copy?
A soft copy is a document saved on a computer. It is the electronic version of a document, which can be opened and edited using a software program such as word processing programs, database programs or presentation software, depending on the file type. Soft copies can be sent via e-mail or over a network connection, which makes them a more efficient and cost-efficient option than using hard copies for communications. Soft copies are often seen as less vulnerable than hard copies of a document. They are in some ways, much more durable where a hard copy can be twisted, folded, dirtied, burnt, lost or torn, a soft copy placed in a proper hardware structure, remains immune to destruction.
Characteristics Of Soft Copy That You Need To Know
Soft copies are electronically written copies.
A soft copy is intangible but it can be seen on a computer screen.
Soft copy can store information for a long period of time.
A soft copy always requires an electronic medium to read and display.
It is easy to make an alteration on a soft copy.
Soft copies are relatively inexpensive to generate.
Some kind of specific software is required to store and display a softcopy.
The quality of soft copy depends on the computer.
Examples of soft copies include PDF files, XLX files, Presentation files, word documents on a computer, scanned copy of the hard copy.
Large files of soft copies do not occupy any real physical space.
Soft copy however the amount does not have any weight.
A soft copy can be shared with others by way of transferring via USB, external disk drives, email or by way of cloud.
A soft copy is stored in a memory and it is read by displaying it on a screen.
To read a soft copy, one does require any power-driven medium.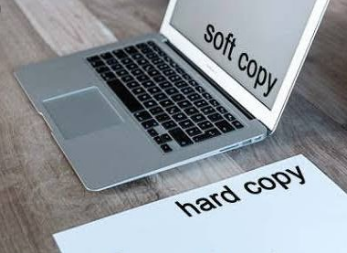 Difference Between Soft Copy And Hard Copy In Tabular Form
| | | |
| --- | --- | --- |
| BASIS OF COMPARISON | SOFT COPY | HARD COPY |
| Nature | A hard copy can easily be touched as it is received on a tangible medium like paper. | A soft copy is intangible but it can be seen on a computer screen. |
| Examples | Examples of hard copies include documents such as job advertisements, official letters with stamps, attested degrees, property papers, business contracts, paperback editions of books, magazines etc. | Examples of soft copies include PDF files, XLX files, Presentation files, word documents on a computer, scanned copy of the hard copy. |
| Storage Of Information | Soft copy can store information for a long period of time. | A hard copy cannot be stored for a long period of time because it often subjected wear and tear. |
| Copies | Hard copies are physical paper copies. | Soft copies are electronically written copies. |
| Electronic Medium | A hard copy does not require an electronic medium to read and display. | A soft copy always requires an electronic medium to read and display. |
| Space | Large files of soft copies do not occupy any real physical space. | Hard copies require a lot of space and are not easily portable. |
| Alteration/ Manipulation | A hard copy cannot be altered or manipulated easily. | It is easy to make an alteration on a soft copy. |
| Quality | The quality of hard copy depends on paper, ink and printer. | The quality of soft copy depends on the computer. |
| Weight | A hard copy carries some weight. | Soft copy however the amount does not have any weight. |
| Sharing | Hard copy can be shared with others by way of getting another photocopy. | A soft copy can be shared with others by way of transferring via USB, external disk drives, email or by way of cloud. |
| Power-Driven Medium | To read a hard copy, one does not require any power-driven medium. | To read a soft copy, one does require any power-driven medium. |
| Software | No specific software is required to store and display a hard copy. | Some kind of specific software is required to store and display a softcopy. |
| Cost | Hard copies are relatively expensive to generate. | Soft copies are relatively inexpensive to generate. |