What Is Diamond?
Diamond is a rare, naturally occurring mineral composed of carbon. It is a mineral composed of pure carbon. Each carbon atom in a diamond is surrounded by four other carbon atoms and connected to them by strong covalent bonds. This arrangement holds the atoms firmly in place and makes diamond an exceptionally hard material.
Diamond is the hardest naturally occurring substance known. It is also chemically resistant and has the highest thermal conductivity of any natural material, properties that are utilized in major industrial applications such as cutting tools for other uses where durability is required.
Diamond also has special optical properties such as a high index of refraction, high dispersion and high luster. These properties help make diamond the world's most popular gemstone and enable it to be used in specialty lenses where durability and performance are required.
What You Need To know About Diamond
Diamond is a very stable allotrope of carbon that is composed of sp3 hybridized carbon atoms.
Diamond has four covalent bonds around one carbon atom.
Diamond is the hardest mineral known to exit.
Diamond crystallizes in the isometric system. It occurs as octahedral crystal.
Diamond is insoluble in all solvents.
Diamond is a poor conductor of electricity but a good conductor of heat.
Diamond is transparent.
Diamond does not possess any luster.
It has a very high melting point.
It has a large three dimensional network structure.
Diamond is abrasive.
The density of diamond is relatively more than that of graphite.
Diamond has a face-centered cubic crystalline structure.
What Is Graphite?
Graphite is a naturally-occurring form of crystalline carbon. It is a native element mineral found in metamorphic and igneous rocks. Graphite is the hardest mineral known but its unique structure makes it extremely light, soft, inert and highly resistant to heat. These extreme properties give it a wide range of uses in metallurgy and manufacturing. Graphite and diamond share the same composition but have very different structures.
The carbon atoms in graphite are linked in a hexagonal network which forms sheets that are one atom thick. These sheets are poorly connected and easily cleave or slide over one another if subjected to a small amount of force. This gives graphite its very low hardness, its perfect cleavage and its slippery feel.
On the other hand, the carbon atoms in diamond are linked into a frameworks structure. Every carbon atom is linked into a three-dimensional network with four other carbon atoms with strong covalent bonds.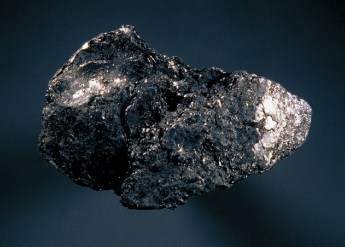 What You Need To Know About Graphite
Graphite is an allotrope of carbon that is made out of sp2 hybridized carbon atoms.
Graphite has three covalent bonds around one carbon atom.
Graphite is crystalline and relatively soft and slippery.
Graphite crystallizes in hexagonal system. It occurs as hexagonal crystals.
Graphite is insoluble in all ordinary solvents.
Graphite is a good conductor of both heat and electricity.
Graphite is black and opaque.
Graphite has a metallic luster.
It has a low melting point.
It has two dimensional sheet like structure.
Graphite is a good lubricant.
The density of graphite is relatively less than that of diamond.
Graphite has a planar structure.
Also Read: Difference Between Rocks And Minerals
Difference Between Diamond And Graphite In Tabular Form
| | | |
| --- | --- | --- |
| BASIS OF COMPARISON | DIAMOND | GRAPHITE |
| Description | Diamond is a very stable allotrope of carbon that is composed of sp3 hybridized carbon atoms. | Graphite is an allotrope of carbon that is made out of sp2 hybridized carbon atoms. |
| Number Of Bonds | Diamond has four covalent bonds around one carbon atom. | Graphite has three covalent bonds around one carbon atom. |
| Nature | Diamond is the hardest mineral known to exit. | Graphite is crystalline and relatively soft and slippery. |
| Occurrence | Diamond crystallizes in the isometric system. It occurs as octahedral crystal. | Graphite crystallizes in hexagonal system. It occurs as hexagonal crystals. |
| Solubility | Diamond is insoluble in all solvents. | Graphite is insoluble in all ordinary solvents. |
| Conductivity | Diamond is a poor conductor of electricity but a good conductor of heat. | Graphite is a good conductor of both heat and electricity. |
| Color | Diamond is transparent. | Graphite is black and opaque. |
| Luster | Diamond does not possess any luster. | Graphite has a metallic luster. |
| Melting Point | It has a very high melting point. | It has a low melting point. |
| Dimension Structure | It has a large three dimensional network structure. | It has two dimensional sheet like structure. |
| Nature | Diamond is abrasive. | Graphite is a good lubricant. |
| Density | The density of diamond is relatively more than that of graphite. | The density of graphite is relatively less than that of diamond. |
| Crystalline Structure | Diamond has a face-centered cubic crystalline structure. | Graphite has a planar structure. |