Crows and ravens belong in the Corvid family (which includes jays, nutcrackers and magpies) and are considered to be among the most adaptable and intelligent birds. Crows and ravens can appear to be very similar, making it a challenge for someone to tell the difference between the two birds. Both birds are completely black and both species are commonly found across North America. Tips for telling the difference between a crow and raven can be found by comparing the size of the bird, shape of the tail feathers, the smoothness of the bird's neck, the birds' sound and how the birds socialize.
Crows
Crows have a glossy, all-black plumage with a relatively long, dark bill and dark legs. In flight, the crow has a rather long, fan-shaped tail. The Juveniles are similar to adults, but they have a pale iris and a brownish overall tinge to their plumage. Crows on average are 17-20 inches in length. When crows molt, the old feathers can appear brownish or scaly compared to the glossy new feathers. Both sexes are alike in appearance although the females are a little smaller in size. Its coal-black coloring, highly social behavior and distinct call makes the crow one of the most frequently seen and heard birds.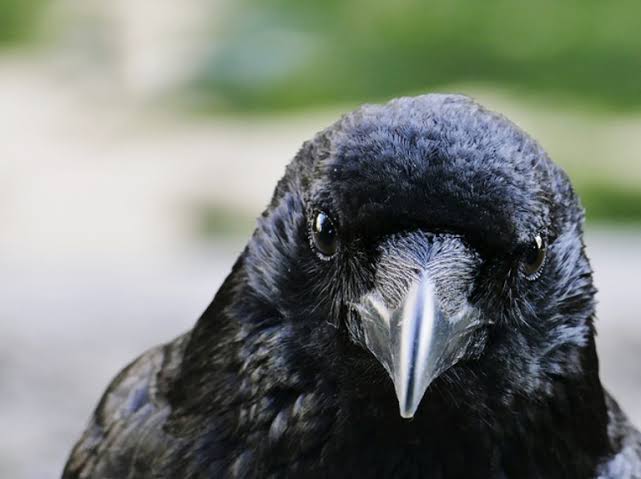 Crows live in large, close-knit families and like social creatures; they not only hunt and forage together but also defend territories together. Crows will occupy almost any woodland, farmland, orchard or residential neighborhood as long as sufficient shelter and enough trees suitable for nesting are available. They seem to prefer lower elevations and moist places, including creeks, streams and lakeshores.
Crows reach sexual maturity around 2 years of age though most do not breed until they are at least 4 years old. After mating, both members of a breeding pair help build the nest. Young birds from the previous year sometimes help as well. The nest is made primary of medium-sized twigs with an inner cup lined with pine needles, weeds, soft bark or animal hair.
Crows are omnivores and eat whatever is available-insects, spider, snails, fish, snakes, eggs, nestling birds, cultivated fruits, nuts and vegetables. They also scavenge dead animals and garbage.
Females will lay between 3-9 eggs and incubate them for 16-18 days. Eggs are pale bluish-green to olive green with blotches of brown and gray toward the large end. Upon hatching the chicks are naked except for sparse tufts of grayish down; their eyes are still closed and they are quite clumsy. A pair of Crow of crows can have up to 2 broods per year.
Interestingly enough, crows have more than 15 different calls. However, the most common sound they make is the harsh and throaty ''caw-caw'' noise. Sometimes crows make a ''subsong'' which is a mixture of hoarse or grating coos, caws, rattles and clicks.
Crows are very intelligent animals. They have an acute sense of sight and hearing and very good memories. They are also extremely gregarious birds, flocking together in family units in the summer and congregating in massive (often thousands of birds) roosting units in the fall and winter.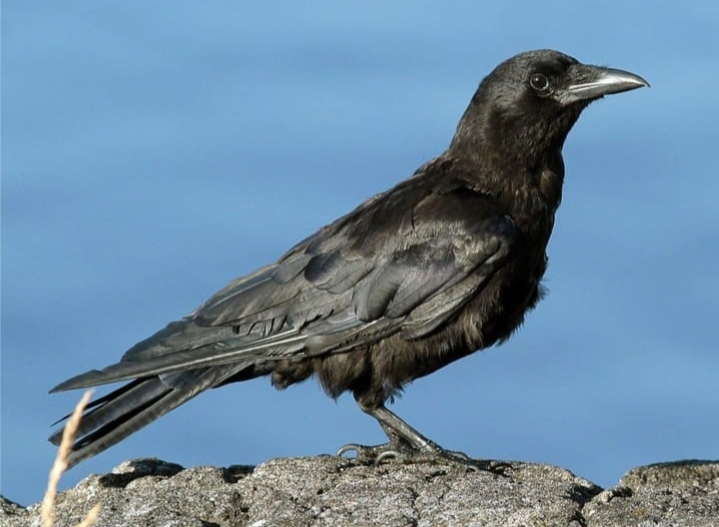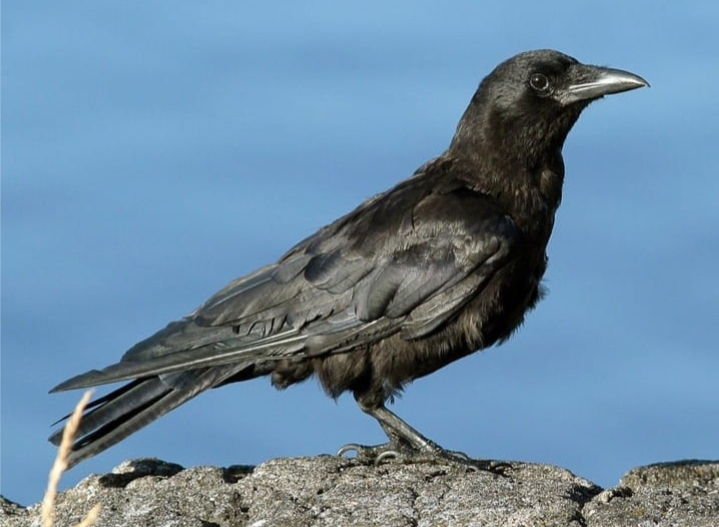 What You Need To Know About Crows
Crows are highly adaptable. They can live and thrive in any place where there are trees and a reliable food source. They can survive in natural as well as artificial habitats.
A crow is about the size of a dove, with a body length of about 19 inches and weighs about 0.57 kg.
Crows have weaker bills that are smaller and mostly flat.
The feathers of crows are less shiny and may have lighter markings.
The crow has a smooth throat with relatively short feathers.
Crows have straight wings that have very little blending along either the leading or trailing edge.
Crows have shorter tails with only a very slight curve showing when the tail is fanned in flight.
In flight, crows are more energetic with frequent flaps.
In flight, the wings of crows are typically silent.
In the right light conditions, the crow's sheen appear greenish.
Crows have a lifespan of up to 8 years.
Crows are gregarious birds that will travel in family flocks and use communal roosts, creating large groups of raucous birds.
Crows only eat carrion on occasion, and their diet includes many other food items, including insects, mollusks, seeds, fruit, nuts, mice, eggs, nestlings of other birds and fish.
Crows makes a typical ''caw-caw'' call.
Also Read: Difference Between Turtle And Tortoise
Ravens
The Raven is a very large black bird with a thick neck, shaggy throat feathers, and a long, thick beak. In flight, ravens have a long, slightly wedge-shaped tail, long, broad, rather pointed wings with long thin "fingers" at the wingtip. They are about the size of hawks, growing to between 22 and 27 inches in length. The Raven is an acrobatic flier, and is often seen doing barrel rolls and somersaults in flight.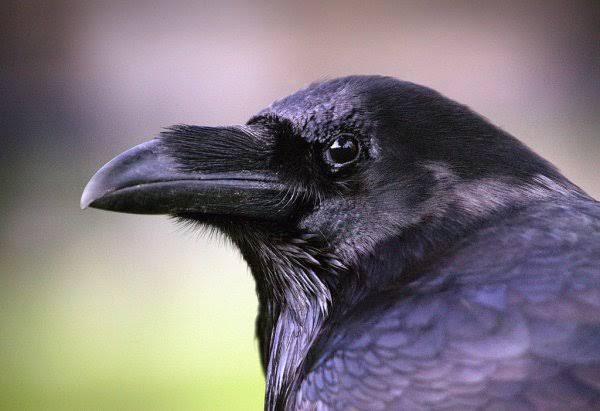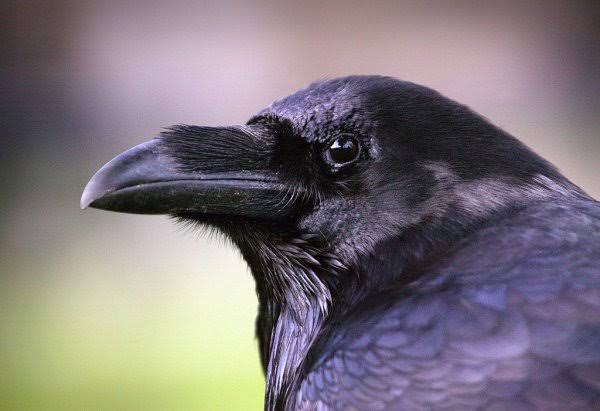 Raven is one of the most geographically and ecologically widespread naturally occurring birds in the world. It is found throughout major portions of North America, Europe, Asia, and North Africa, and in all major habitat types except tropical rain forests.
Ravens are very similar in appearance to the crow but can be distinguished by their slightly larger size, wedge-shaped tail and hoarser call. The Raven can be found in a variety of different habitats, though they generally prefer open and partially open areas. They live in forested and mountainous areas and build their nests high on cliff edges or in trees. In some parts of their range, ravens can be found in urban areas, where they build nests on structures like billboards and power-lines.
Ravens are scavengers and will eat almost anything including carrion, small animals, birds as large as Rock Pigeons and nestling Great Blue Herons, eggs, a variety of arthropods, fish, grains, buds and berries, and most types of human food including garbage. Ravens also eat fowl and their eggs, including chickens, ducks, guineas and geese. Ravens generally have few predators-eagles, hawks, owls and human hunters. Humans are the main predators.
A female raven will lay between 3-7 eggs in the nest and incubates them for about 18 days. The male and female will both tend to their young. Young leave the nest between 5 and 7 weeks of age. They sometimes disperse or may stay in the area where they were born. Sexual maturity is reached at about 3 years of age.
Ravens are very intelligent and are known to work in pairs to raid colonies of nesting seabirds; one bird distracts an incubating adult while the other grabs an egg or chick. They can make a wide variety of sounds ranging from low baritone croaks to high bell-like notes, and can even mimic the calls of other bird species. Their most common call is a long hoarsekraah. Ravens also have been to peck and destroy irrigation piping and drip lines resulting damage and preventing the flow of water to crops.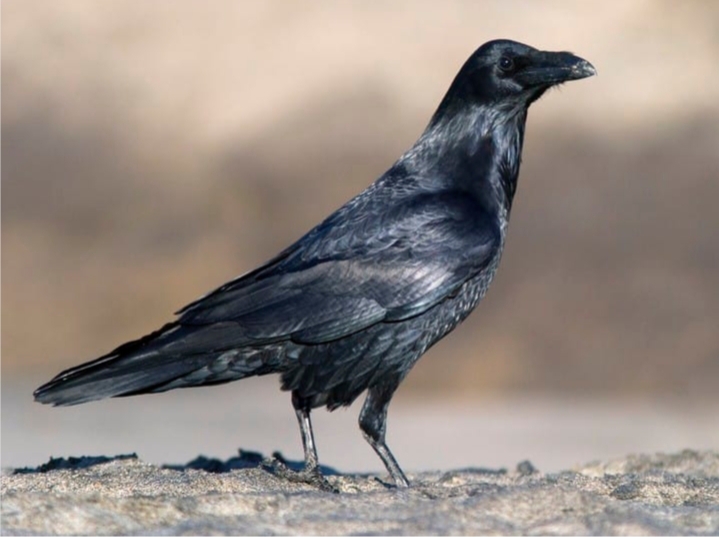 What You Need To Know About Ravens
Ravens are commonly found in the Northern hemisphere. You can easily find them in grasslands, beaches, forests, islands, sagebrush, deserts, mountains, tundra, ice floes and agriculture fields.
A raven is about the size of a hawk, measuring about 24-27 inches in length and weighs about 1.13 kg.
Ravens have black, larger, thicker, curved and more powerful beaks.
The feathers of ravens are generally shiny with a wet sheen.
Ravens have shaggy feathers around the throat and above the beak.
Raven's wings are longer with a more visible crook at the wrist and the primary feathers are more splayed, showing more ''finger'' space between them.
Ravens have longer tails and the feathers in the center of the tail are significantly longer, creating a distinctly pointed wedge, diamond or V-shaped.
In flight crows occasionally somersault and are more likely to soar and glide with only shallow, infrequent flaps.
In flight wings of ravens may make a distinct swishing sound.
In the right light conditions, the Raven's sheen is blue or purple.
Ravens have a lifespan of about 30 years.
Ravens are much more solitary or are found frequently in pairs, but very rarely in larger groups.
Ravens are scavengers and will eat almost anything including carrion, small animals, birds as large as Pigeons, eggs, a variety of arthropods, fish, grains, buds and berries, and most types of human food including garbage.
Common ravens have a much coarse, rattling call that that sounds like a long, slow croaking ''grooonk'' tone.
Also Read: Difference Between Hawk And Falcon
Difference Between Crows And Ravens In Tabular Form
| | | |
| --- | --- | --- |
| BASIS OF COMPARISON | CROWS | RAVENS |
| Habitat | Crows will occupy almost any woodland, farmland, orchard or residential neighborhood as long as sufficient shelter and enough trees suitable for nesting are available. | Grasslands, beaches, forests, islands, sagebrush, deserts, mountains, tundra, ice floes and agriculture fields. |
| Size | A crow is about the size of a dove, with a body length of about 19 inches and weighs about 0.57 kg. | A raven is about the size of a hawk, measuring about 24-27 inches in length and weighs about 1.13 kg. |
| Bills | Crows have weaker bills that are smaller and mostly flat. | Ravens have black, larger, thicker, curved and more powerful beaks. |
| Feathers | The feathers of crows are less shiny and may have lighter markings. | The feathers of ravens are generally shiny with a wet sheen. |
| Throat Feathers | The crow has a smooth throat with relatively short feathers. | Ravens have shaggy feathers around the throat and above the beak. |
| Wings | Crows have straight wings that have very little blending along either the leading or trailing edge. | Raven's wings are longer with a more visible crook at the wrist and the primary feathers are more splayed, showing more ''finger'' space between them. |
| Tail | Crows have shorter tails with only a very slight curve showing when the tail is fanned in flight. | Ravens have longer tails and the feathers in the center of the tail are significantly longer, creating a distinctly pointed wedge, diamond or V-shaped. |
| In-Flight | In flight, crows are more energetic with frequent flaps. | In flight crows occasionally somersault and are more likely to soar and glide with only shallow, infrequent flaps. |
| In Flight Sound | In flight, the wings of crows are typically silent. | In flight wings of ravens may make a distinct swishing sound. |
| Sheen | In the right light conditions, the crow's sheen appear greenish. | In the right light conditions, the Raven's sheen is blue or purple. |
| Lifespan | Crows have a lifespan of up to 8 years. | Ravens have a lifespan of about 30 years. |
| Nature | Crows are gregarious birds that will travel in family flocks and use communal roosts, creating large groups of raucous birds. | Ravens are much more solitary or are found frequently in pairs, but very rarely in larger groups. |
| Diet | Crows only eat carrion on occasion, and their diet includes many other food items, including insects, mollusks, seeds, fruit, nuts, mice, eggs, nestlings of other birds and fish. | Ravens are scavengers and will eat almost anything including carrion, small animals, birds as large as Pigeons, eggs, a variety of arthropods, fish, grains, buds and berries, and most types of human food including garbage. |
| Call | Crows makes a typical ''caw-caw'' call. | Common ravens have a much coarse, rattling call that that sounds like a long, slow croaking ''grooonk'' tone. |
Also Read: Difference Between Alligator And Crocodile