What Is Cell Wall/Plasma Membrane?
The cell membrane (also known as the plasma membrane (PM) or cytoplasmic membrane, and historically referred to as the plasmalemma) is a biological membrane that separates the interior of all cells from the outside environment (the extracellular space) which protects the cell from its environment.
The cell membrane consists of a lipid bilayer, including cholesterols (a lipid component) that sit between phospholipids to maintain their fluidity at various temperatures. The membrane also contains membrane proteins, including integral proteins that go across the membrane serving as membrane transporters, and peripheral proteins that loosely attach to the outer (peripheral) side of the cell membrane, acting as enzymes shaping the cell.
The cell membrane controls the movement of substances in and out of cells and organelles. In this way, it is selectively permeable to ions and organic molecules. In addition, cell membranes are involved in a variety of cellular processes such as cell adhesion, ion conductivity and cell signaling and serve as the attachment surface for several extracellular structures, including the cell wall, the carbohydrate layer called the glycocalyx, and the intracellular network of protein fibers called the cytoskeleton.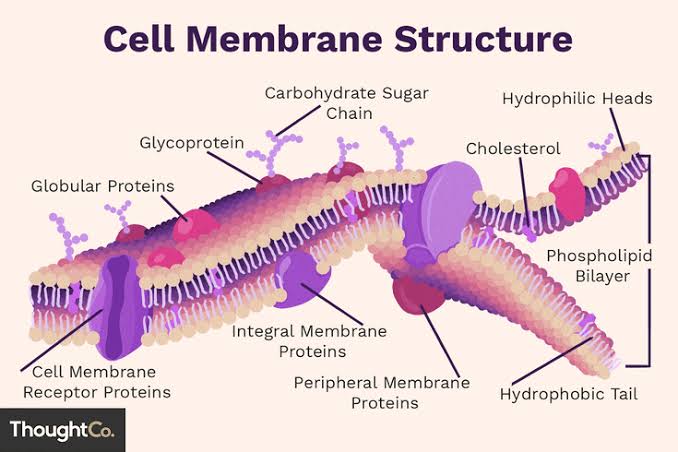 What You Need To Know About Plasma Membrane
Plasma membrane is a thin layer, 5-10 nm in size.
Plasma membrane protects protoplasm and checks the entry of molecules.
It is a thin layer only visible through the electron microscope.
Plasma membrane is present in all kinds of cells.
Plasma membrane is made up of lipids, proteins and carbohydrates.
Plasma membranes are semi-permeable and have receptors which help in cell-to-cell communication.
Cell membrane is metabolically active and living.
Cell membrane requires nutrition to grow.
What Is Cell Wall?
Cell wall is a specialized form of extracellular matrix that surrounds every cell of a plant. It is tough, flexible and sometimes rigid. All cells have cell membranes, but generally only plants, fungi, algae, most bacteria and archaea have cells with cell walls.
The cell wall has a few different functions. It is flexible, but provides strength to the cell, which helps protect the cell against physical damage. It also gives the cell its shape and allows the organism to maintain a certain shape overall. The cell wall can also provide protection from pathogens such as bacteria that are trying to invade the cell. The structure of the cell wall allows many small molecules to pass through it, but not larger molecules that could harm the cell.
The materials that make up the cell wall differ depending on the type of organism. The cell wall has evolved many different times among different groups of organisms. The main component of the plant cell wall is cellulose, a carbohydrate that forms long fibers and gives the cell wall its rigidity. Cellulose fibers group together to form bundles called microfibrils. Other important carbohydrates include hemicellulose, pectin, and liginin. These carbohydrates form a network along with structural proteins to form the cell wall.
The cell walls of bacteria usually contain the polysaccharide, peptidoglycan, which is porous and lets small molecules through. Together, the cell membrane and cell wall are referred to as the cell envelope. The cell wall is an essential part of survival for many bacteria. It provides mechanical structure to bacteria, which are single-celled, and it also protects them from internal turgor pressure.
Some algae, such as green algae, have cell walls that are similar in structure to those of plants. Other algae, such as brown algae and red algae, have cellulose along with other polysaccharides or fibrils. Diatoms have cell walls that are made from silicic acid. The cell walls of fungi contain chitin, which is a glucose derivative that is similar in structure to cellulose. Layers of chitin are very tough; chitin is the same molecule found in the rigid exoskeletons of animals such as insects and crustaceans.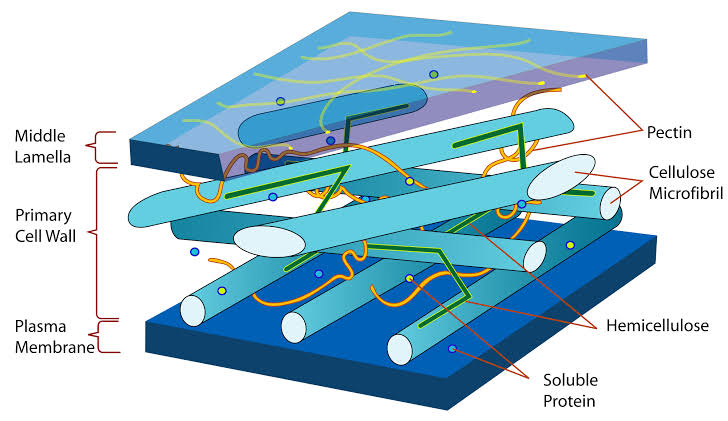 What You Need To Know About Cell Wall
Cell wall is the rigid outermost layer of a cell, usually 4-20 µm.
Cell wall provides rigidity and protects the contents of the cell from external mechanical shock.
It is a thick layer and clearly visible through the light microscope.
Cell wall is present exclusively in plants, bacteria, fungi, algae cells etc.
Cell wall consists of chitin, cellulose and peptidoglycan.
Cell wall is completely permeable and does not have any receptors.
Cell wall is metabolically inactive and non-living.
Cell wall does not require nutrition to grow.
Also Read: Difference Between Animal Cell And Plant Cell
Difference Between Cell Wall And Plasma Membrane In Tabular Form
| | | |
| --- | --- | --- |
| BASIS OF COMPARISON | CELL MEMBRANE | PLASMA MEMBRANE |
| Description | Cell membrane is a biological membrane that separates the interior of all cells from the outside environment (the extracellular space) which protects the cell from its environment. | Cell wall is a specialized form of extracellular matrix that surrounds every cell of a plant. |
| Size | Plasma membrane is a thin layer, 5-10 nm in size. | Cell wall is the rigid outermost layer of a cell, usually 4-20 µm. |
| Visibility | It is a thin layer only visible through the electron microscope. | It is a thick layer and clearly visible through the light microscope. |
| Presence | Plasma membrane is present in all kinds of cells. | Cell wall is present exclusively in plants, bacteria, fungi, algae cells etc. |
| Contents | Plasma membrane is made up of lipids, proteins and carbohydrates. | Cell wall consists of chitin, cellulose and peptidoglycan. |
| Permeability | Plasma membranes are semi-permeable. | Cell wall is completely permeable. |
| Receptors | Cell membranes have receptors which help in cell-to-cell communication/signaling. | Cell walls do not have any receptors. |
| Metabolic Activity | Cell membrane is metabolically active and living. | Cell wall is metabolically inactive and non-living. |
| Nutrition | Cell membrane requires nutrition to grow. | Cell wall does not require nutrition to grow. |