What Are Cathode-Ray Tube (CRT) Monitors ?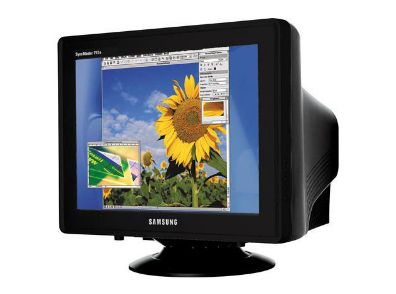 A cathode-ray tube monitor is a display device used in television sets and computer monitors. It is a kind of vacuum tube which contains one or more electron guns, electrostatic deflection plates and a phosphor target which is located at the back of the glass screen.
In computer or in a television set, images and color are produced by shooting and controlling the electrons beams representing each additive color light (red, blue and green) using the video signal as the reference. The brightness, color and persistence of the illumination can be varied using different kinds of phosphor.
What You Need To Know About CRT (Cathode Ray Tubes) Monitors
Cathode ray tubes (CRTs) have an electron gun at the end of the monitor tube. The electron gun emits electron beam that strikes the phosphors dots on the monitor screen.
Major components include: vacuum glass tube, phosphor screen, electron gun and deflection plates.
Electron Gun is used to form images.
Image flickering is common in CRT and thus they do not provide a better display quality.
CRT is used in televisions and was also a common feature in old-computer monitors.
CRT requires more electric power for its working.
CRT is weighted, bulky and large in size.
CRT provides a low range of resolution when compared to LCDs.
Response of CRTs is slower when compared to that of LCDs.
CRT monitors are less costly than LCDs.
CRT can be affected easily by external magnetic field.
Image retention is never present in CRT.
What Are Liquid Crystal Displays (LCDs)Monitors?
A liquid crystal display (LCD) monitor is a computer monitor or display that uses LCD technology to show clear images and is found in many laptop computers and flat panel monitors. LCDs are available to display arbitrary images or fixed images with low information content, which can be displayed or hidden such as preset words, digits and seven-segment displays, as in a digital clock.
LCDs are used in a wide range of applications, including LCD televisions, computer monitors, instrument panels, aircraft cockpit displays and indoor and outdoor signage. Just like LCDs replaced older display technologies, they have started being replaced by new display technologies such as OLEDs.
What You Need To Know About LCD (Liquid Crystal Displays) Monitors
Liquid crystal tubes (LCDs) have a crystal like liquid inside of it that directs the light to the screen from the bottom of the monitor.
Major components include: glass plates, nematic liquid crystal and internal light source.
Liquid crystal is used to form images.
LCDs do not have an image flickering problem and thus they provide a better display quality.
LCD is used in flat screens.
LCDs use less electric power than CRTs.
LCD is light, compact and thin in size.
The resolution of LCD is higher than that of CRT.
Response of LCDs is faster when compared to that of CRT monitors.
LCDs are more expensive when compared to CRT.
Extreme temperature levels (high and low) can severely affect the operation of LCD.
There is image retention in LCD.
Also Read: Difference Between OLED And QLED TVs
LCD Vs CRT Monitors In Tabular Form
| | | |
| --- | --- | --- |
| BASIS OF COMPARISON | CRT MONITORS | LCD MONITORS |
| Meaning | CRT stands for Cathode Ray Tubes. | LCD stands for liquid crystal displays. |
| Major Components |  Vacuum glass tube Phosphor screen Electron gun Deflection plates. | Glass plates Nematic liquid crystal Internal light source. |
| Image Formation | Electron Gun is used to form images. | Liquid crystal is used to form images. |
| Display Quality | Image flickering is common in CRT and thus they do not provide a better display quality. | They do not have an image flickering problem and thus they provide a better display quality. |
| Use | It is used in televisions and was also a common feature in old-computer monitors. | Used in flat screens. |
| Power Requirement | It requires more electric power for its working. | They use less electric power than CRTs. |
| Weight &Size | It is weighted, bulky and large in size. | It is light, compact and thin in size. |
| Resolution | It provides a low range of resolution when compared to LCDs. | The resolution of LCD is higher than that of CRT. |
| Response | Response is slower when compared to that of LCDs. | Response is faster when compared to that of CRT monitors. |
| Cost | CRT monitors are less costly than LCDs. | LCDs are more expensive when compared to CRT. |
| Affected By | It can be affected easily by external magnetic field. | Extreme temperature levels (high and low) can severely affect the operation of LCD. |
| Image Retention | Image retention is never present in CRT. | There is image retention in LCD. |
Also Read: Difference Between Digital And Smart TV